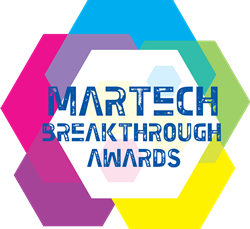 "GeoLink is designed for marketers who want to drive growth for their companies by building engaging, relevant experiences with consumers throughout the customer journey" - Todd Dipaola, Founder and CEO, InMarket
LOS ANGELES (PRWEB) August 12, 2021
MarTech Breakthrough, a leading market intelligence organization that recognizes the top companies, technologies and products in the global marketing, sales and advertising technology industry, today announced that InMarket, the leader in 360-degree consumer intelligence and real-time activation, and its GeoLink platform was selected as the winner of the "Best Location Based Marketing Platform" award in the fourth annual MarTech Breakthrough Awards program. GeoLink, InMarket's self-service, location-based marketing platform, combines targeting with real-time execution capabilities, allowing brands to create engaging and contextual experiences throughout the customer journey and during their precise moment of need.
GeoLink gives marketers unprecedented access to market-leading location audiences and real-time activation, attribution and analytics reporting in a single SaaS-based interface. The platform includes InMarket's proprietary Moments inventory, enabling brands to create and execute real-time ad experiences based on location as consumers are in the purchase process. Campaigns leveraging InMarket's proprietary, real-time Moments generate an average click-through rate that is 6.5 times greater than industry benchmarks.*
"InMarket is thrilled to be recognized by the MarTech Breakthrough Awards alongside so many innovative companies," said Todd Dipaola, Founder and CEO of InMarket. "GeoLink is designed for marketers who want to drive growth for their companies by building engaging, relevant experiences with consumers throughout the customer journey. GeoLink is here to help them do exactly that. I'm especially proud of the InMarket team for their work and dedication as we create a positive impact for our partner brands every day."
The mission of the MarTech Breakthrough Awards is to honor excellence and recognize the innovation, hard work and success in a range of marketing, sales and advertising technology related categories, including marketing automation, marketing analytics, mobile marketing and many more. This year's program attracted more than 2,850 nominations from over 17 countries throughout the world.
"Marketers have been under increased pressure to drive return on advertising spend especially during the pandemic, forcing technology providers and marketers to reevaluate their strategies to meet changing consumer needs and reach the appropriate audience," said James Johnson, Managing Director at MarTech Breakthrough. "InMarket is delivering a breakthrough platform for marketers in this new world, providing advertisers with an unmatched ability to reach customers at the precise moment of need, at scale, based on an intersection of their needs and tendencies. We extend our sincere congratulations to the InMarket team for winning our 'Best Location Based Marketing Platform' award in the 2021 MarTech Breakthrough Awards program."
For more information on InMarket's GeoLink platform, please visit https://inmarket.com/geolink/
####
About InMarket
Since 2010, InMarket has been the leader in 360-degree consumer intelligence, real-time marketing for thousands of major brands. Through InMarket's data-driven marketing platform, brands can build targeted audiences, activate real-time, and measure success in driving sales. InMarket's proprietary Moments offering outperforms traditional mobile advertising by 6.5x.*
InMarket, which has taken no outside financing, holds more than 27 patents across location, attribution and digital marketing, and its GeoLink self-service marketing platform was awarded Best Location Platform at the 2020 Digiday Technology Awards. Its nationwide team is united across more than 20 states. For more information, visit inmarket.com.
*Wordstream Google Ads Benchmark for Mobile Media
About MarTech Breakthrough
Part of Tech Breakthrough, a leading market intelligence and recognition platform for global technology innovation and leadership, the MarTech Breakthrough Awards program is devoted to honoring excellence in marketing, ad and sales technology companies, products and people. The MarTech Breakthrough Awards provide a platform for public recognition around the achievements of breakthrough marketing technology companies and products in categories including marketing automation, AdTech, SalesTech, marketing analytics, CRM, content and social marketing, website, SEM, mobile marketing and more. For more information, visit MarTechBreakthrough.com.