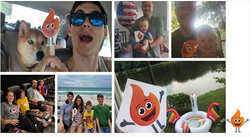 Our people demonstrate on a daily basis their commitment and belief in our 'inMo Values' that have carried us through this trying year and I'm truly heartened to have TBJ recognize the positive impact of our culture
RALEIGH, N.C. (PRWEB) September 15, 2020
inMotionNow, a leading provider of workflow management software for creative and marketing teams, announced it was named among the top 10 Best Places to Work for medium sized companies by the Triangle Business Journal (TBJ). The annual award recognizes local companies for fostering employee-friendly policies and exceptional work environments. The TBJ honored the winners in a special section as part of its Sept. 11, 2020, weekly subscriber edition.
"Recognition in the TBJ Best Places to Work is meaningful in any year because the selection is based on the candid feedback of our team members," said inMotionNow CEO, Douglas Thede. "Our people demonstrate on a daily basis their commitment and belief in our 'inMo Values' that have carried us through this trying year and I'm truly heartened to have TBJ recognize the positive impact of our culture."
The Best Places to Work program is unique because the ranking is based on an independently fielded and anonymous survey of employees. Employees are asked to weigh in on their employer's culture, compensation, benefits, and leadership, among other factors. The award carries a prestige among the business community – especially in the highly competitive technology sector around Research Triangle Park (RTP).
The honor adds to a string of awards and recognition the company has earned over the last 12 months. For example, in late 2019 inMotionNow was named to the 2019 North Carolina Middle-Market Fast 40 by North Carolina Business Magazine. It also earned its way onto Deloitte's 2019 Technology Fast 500, which recognizes the 500 fastest growing technology, media, telecommunications, life sciences, and energy tech companies in North America, with 218% growth.
inMotionNow has been developing collaborative marketing technology specifically designed to meet the needs of creative teams for more than 20 years. The company's flagship product, inMotion ignite, is a next-generation creative workflow platform that helps enterprise marketing and creative teams efficiently manage the creative work that fuels marketing campaigns across thousands of projects every year – from the initial request to final approval.
# # #
About inMotionNow, Inc.
inMotionNow is a leading provider of workflow management solutions for marketing and creative teams, facilitating efficiency and productivity from project kickoff to final approval. inMotion ignite, the company's flagship SaaS product, simplifies every phase of the creative production process, delivering measurable value to enterprise clients. The application allows project stakeholders to manage, track, and collaboratively review their projects in a centralized online environment that connects designers directly to Adobe with the inMotion Extension for Adobe Creative Cloud. With a user-friendly interface and dedicated customer success team, inMotionNow helps creative and marketing teams of every variety automate their workflow and do the work they love. For more information please visit http://www.inmotionnow.com.
Media Contact:
Frank Strong
for inMotionNow
202-352-5920
frank@swordandthescript.com