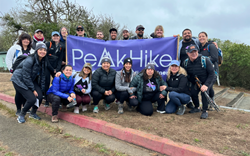 "... BCPP shares our mission to remove toxic chemicals from beauty and personal care products," shares Greg Starkman, CEO of Innersense Organic Beauty. "Our company was created with the safe cosmetic consumer and salon stylist in mind."
CONCORD, Calif. (PRWEB) January 04, 2023
Innersense Organic Beauty has donated over $90,000 to nonprofit Breast Cancer Prevention Partners (BCPP) so far in 2022, with continued contributions for its annual Season of Giving campaign, which spans five weeks each year. The brand chose BCPP as its designated cause partner for week two, November 28 to December 4, which included Giving Tuesday.
Since 2011, Innersense Organic Beauty has been a strong supporter of BCPP and its mission. Through participating in BCPP's Climb Against the Odds and Annual Peak Hike, Innersense Organic Beauty has been committed to fundraising and giving back to this meaningful cause partner.
"Giving back to purposeful organizations was part of our original intentions when launching Innersense Organic Beauty. BCPP shares our mission to remove toxic chemicals from beauty and personal care products," shares Greg Starkman, CEO of Innersense Organic Beauty. "Our company was created with the safe cosmetic consumer and salon stylist in mind."
Innersense Organic Beauty was born out of a quest for clean, safe ingredients after the Starkmans' daughter was diagnosed with Williams Syndrome at 22 months old. "Health was the first place I started to look for answers. I turned to the back sides of all the products I was using in the salon. I quickly became an avid label reader and researched ingredients. To my surprise, there were far too many unsafe ingredients in the products I was using. I did not want my children or my clients exposed to them," says Joanne Starkman, president of Innersense Organic Beauty.
Every formula in the Innersense Organic Beauty line is made with sustainably sourced ingredients and is free of synthetics. These formulations offer top performance and salon quality while also being gentle on ecosystems and waterways. Procured ethically from trusted farms around the world, the brand utilizes ingredients commonly found in skincare, since the scalp also benefits from their vitamins and minerals. For those looking to clean up their hair care routine, the brand recommends the best place to start is with a detox hair mask plus a scalp scrub. "For the sake of scalp health, start with these products and you'll see the best results instantaneously," Joanne says.
Innersense Organic Beauty supports BCPP's Campaign for Safe Cosmetics, which is generating consumer awareness and demand for safer products and comprehensive cosmetic safety laws that protect everyone regardless of where they shop, work, or live. Janet Nudelman, senior director of program & policy at BCPP, had the opportunity to work with the Starkman couple firsthand. "It has been a joy to work with both Greg and Joanne over the years, advocating for health protective state and federal cosmetic safety laws because they believe, like we do, that everyone deserves safe, non-toxic beauty and personal care products. Innersense Organic Beauty shows up with an unwavering commitment to women's health through their words, their great products, and their actions."
About Innersense Organic Beauty
Innersense Organic Beauty is an award-winning global leader in hair care with a complete range of safe, sustainable, and cruelty-free products that deliver pure performance and salon-quality results. Dedicated to sustainability and wellness, Innersense's mission is to inform, inspire, and empower beauty professionals and consumers to make healthy choices with a brand that aligns with their personal values. For more information, visit innersensebeauty.com.
Press Contact:
Archita Patel
BPCM
archita@bpcm.com
+1 (281) 725-2121
The footnote has been updated: International Agency for Research on Cancer. IARC Monographs on the Evaluation of Carcinogenic Risks to Humans. Volume 99: Some Aromatic Amines, Organic Dyes, and Related Exposures. 2010. Accessed at https://publications.iarc.fr/_publications/media/download/2958/04f67887be058cb7ae62b10572bf41e37643b15c.pdf