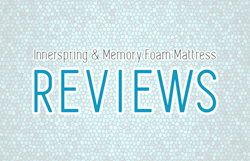 Jersey City, NJ (PRWEB) March 22, 2014
In the past thirty years, specialty mattresses have seen continual surges in growth, largely sparked by the increasing popularity of memory foam. Though the innerspring bed remains the most common mattress type in the US, consumers are becoming more curious about alternative options. However, for people who have only slept on spring beds, it can be intimidating and confusing to shop for a specialty mattress.
Memory Foam Mattress Guide, a website that provides information and resources on memory foam, recently released an article contrasting both innerspring and memory foam mattresses designed to educate prospective shoppers. Published March 21, the article utilizes detailed comparisons and reviews to address the question, "How Do Innerspring and Memory Foam Mattress Reviews Compare?"
The article begins by providing a detailed explanation of how innerspring and memory foam mattresses work, how they feel, and what they contain. Average lifespans, price and availability are also reviewed. This section aims to introduce the basics of both beds and to help readers identify which type might best match their preferences.
Memory Foam Mattress Guide goes on to demonstrate the differences between innerspring and memory foam mattresses using review data from third-party consumer review websites, retailer websites, and from their previous article comparing memory foam brands. One chart compares memory foam and innerspring beds in general, showing that memory foam mattresses tend to have higher rates of owner satisfaction and reduced complaints of pain, motion and noise. Another chart compares 5 popular mattresses from each category to demonstrate differences in price and owner satisfaction between the mattress types. Brands compared include Serta, Tempurpedic, Simmons, and Amerisleep, among others.
For readers trying to determine which mattress is best, Memory Foam Mattress Guide points out that memory foam mattresses generally earn higher satisfaction rates, but that brands and personal preferences can differ significantly. The article suggests weighing the strengths and weaknesses of each type against sleep preferences and concerns, thoroughly researching options, and choosing a retailer with a good return policy. The website also hosts several other guides and informative articles on memory foam beds for interested readers.
MemoryFoamMattress-Guide.org offers detailed resources, geared towards people looking to buy or research a new bed. A fresh and easy-to-navigate blog format presents articles organized by topic and date, in addition to offering social tools and subscription feeds. From buying guides to brand information and news, readers can find unbiased information designed to create educated buyers.