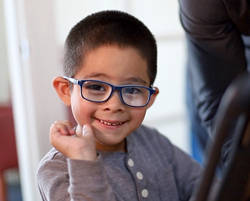 InnerVoice started as a futuristic far-fetched idea that Lois and I had a few years back. This AI for Accessibility grant will give us wings to ensure effective communication for all, worldwide
SAN FRANCISCO (PRWEB) May 15, 2019
InnerVoice, a Microsoft AI for Accessibility grantee, seamlessly integrates Azure AI technology, offering unique and intuitive ways for users to learn words and improve conversational skills from AI-powered photo-based avatars.
By combining facial recognition technology with Microsoft's Azure Cognitive Services, InnerVoice offers a complete communication system for people with autism and other communication challenges -- one which allows users to create selfie-based avatars that, on command, describe images in a user's environment and also engage in friendly conversations.
The photo avatars help teach users to learn words, sentences, and conversational skills by watching a toy, a drawing, or even a selfie speak, almost as if mirror images were speaking to them. This instructional technique is called video self-modeling: which aims to stimulate users' mirror neurons, a neurological system that is associated with imitation and learning when watching another person perform a task.
"InnerVoice started as a futuristic far-fetched idea that Lois and I had a few years back. This AI for Accessibility grant will give us wings to ensure effective communication for all, worldwide." Matthew Guggemos, speech pathologist, co-creator of InnerVoice.
AI for Accessibility is Microsoft's $25 million 5-year program, aimed at harnessing the power of AI to amplify human capability for the more than one billion people around the world with disabilities. It's a call to action for developers, NGO's, academics, researchers and inventors to accelerate their work for people with disabilities, focusing on these key areas: Employment, Daily Life, Communication, and Connection. Through grants, technology, and AI expertise, the program aims to accelerate the development of accessible and intelligent AI solutions and build on recent advancements in Microsoft Cognitive Services to help developers create intelligent apps that can see, hear, speak, understand, and interpret people's needs.
Please visit InnerVoice and the AI for Accessibility's website for more information.