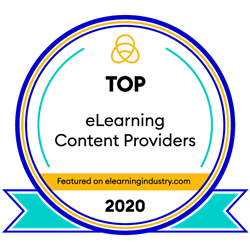 "Winning this award is a huge honor for our team," said Joel Ippel, Senior Director of Marketing and Business Development at Inno-Versity. "It is a true testament to the expertise, creativity, and growth of our team."
GRAND RAPIDS, Mich. (PRWEB) October 06, 2020
Inno-Versity announced today that it has been named #1 in a list of Top eLearning Content Development Companies for 2020, according to eLearning Industry. The Grand Rapids, MI-based learning agency was recognized as a global leader in custom digital learning solutions. The annual list ranks companies based on eight criteria: growth potential, social responsibility, retention, reviews, turnover, innovation, quality of delivery, and expertise. The globally recognized team of learning experts at eLearning Industry makes this decision based on a thorough review of each agency's website, work samples, and published content.
"Winning this award is a huge honor for our team," said Joel Ippel, Senior Director of Marketing and Business Development at Inno-Versity. "It is a true testament to the expertise, creativity, and growth of our team."
The award recognized Inno-Versity's strengths in the key areas of Learning Theory, Focus on Business Outcomes, and Learner Experience. Their team has been selected by some of the largest and most respected organizations in the world. In addition to this recognition, here is a sample of some of their other recent achievements:

Global Learning Team of the Year, Stevie Awards
Top Education and Training Materials, Apex Awards
Best Advance in Content, Brandon Hall Awards
Top eLearning Content Development Companies for 2019, eLearning Industry
The eLearning Industry Top Content Development Companies for 2020 awards can be found at https://elearningindustry.com/top-elearning-content-development-companies
About Inno-Versity
Inno-Versity is one of the global leaders when it comes to top eLearning content development companies; especially in custom digital learning solutions. Their in-house team of instructional designers and creative specialists works with top brands around the world, specializing in gamification, blended learning, eLearning, scenario-based learning, mobile learning, Instructor-Led Training, animations, and AR/VR. Their value proposition focuses on creating world-class programs using advanced learning theory and cutting-edge technology that engages learners and produces measurable business outcomes. Find Inno-Versity online at inno-versity.com.