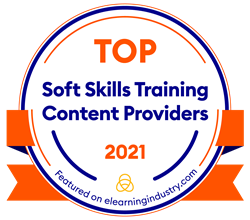 Solid soft skills are mission critical for every organization. Being name the top soft skills training company in the world is a huge honor for our team
GRAND RAPIDS, Mich. (PRWEB) April 07, 2021
West Michigan-based Inno-Versity announced today that it has been named #1 in a list of Top Soft Skills Companies for 2021, according to eLearning Industry, the world's largest knowledge-sharing platform recognized globally as the leader in digital learning.
The annual list ranks companies based on eight criteria: growth potential, social responsibility, retention, reviews, turnover, innovation, quality of delivery, and expertise. eLearning Industry makes their decision based on a thorough review of each company and its work.
"Solid soft skills are mission critical for every organization. Being name the top soft skills training company in the world is a huge honor for our team," said Mark Vanderwal, President of Inno-Versity.
Joel Ippel, Vice President of Sales & Marketing at Inno-Versity, added, "It is a true testament to the expertise, creativity, and growth of our team." Mr. Ippel noted that Inno-Versity is experiencing tremendous business and team growth as it meets the needs of its growing list of clients including some of the largest corporations, universities, and non-profits in the world.
The eLearning Industry Top Content Providers For Soft Skills Training 2021 awards can be found on ELI's website
About Inno-Versity
Inno-Versity's mission is to transform, empower, and inspire learners around the world. They create world-class learning experiences using exceptional creativity, the best of learning science, and innovative technology. Their team of instructional designers and creative specialists work with top global brands specializing in gamification, blended learning, eLearning, scenario-based learning, mobile learning, Instructor-Led Training, animations, and AR/VR.
Find Inno-Versity online at inno-versity.com or on LinkedIn