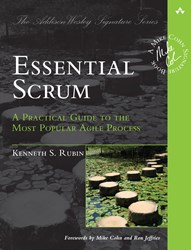 I expect the Quick Start Guide to Essential Scrum to become a very popular resource for people looking for a single-source visual overview of Scrum.
Niwot, CO (PRWEB) August 28, 2013
Kenneth S. Rubin, Managing Principal of Innolution, LLC, agile trainer, coach, and author, announces the availability of the "Quick Start Guide to Essential Scrum," a free PDF version of "Chapter 2, Scrum Framework," from his bestselling book Essential Scrum: A Practical Guide to the Most Popular Agile Process.
In 16 pages, the "Quick Start Guide to Essential Scrum" provides a single-source, end-to-end visual overview of the Scrum framework, including its roles, activities, and artifacts. It gives everyone involved with Scrum, from the Scrum team members to those with whom they interact in the organization (including managers and executives), a common understanding of Scrum. It introduces the core concepts along with a clear, visual vocabulary for discussing them.
The newly released PDF version of the Quick Start Guide to Essential Scrum is a free, standalone, sharable resource that is available for immediate download from either InformIT.com or Innolution.com.
The Essential Scrum book, from which the "Quick Start Guide" is extracted, is a comprehensive, single-source reference on how to successfully use Scrum, the world's most popular agile process. Immediately after its publication in August 2012 the book rocketed to the Amazon #1 spot in agile project management and it has retained that #1 position for over a year. Due to its popularity the book is now in its fourth printing and is being translated into simplified Chinese, Japanese, and Polish.
According to Rubin, "When I was writing Essential Scrum I had always intended that Chapter 2, the overview of the Scrum Framework, should be available as a stand-alone reference for anyone who wanted a quick and comprehensive overview of Scrum. Since the book's publication I get frequent requests asking me to make a PDF version of that chapter available. Scrum trainers want to use it as pre-readings for their classes. Agile coaches and practitioners want to give it to their teams or hand a copy to their managers to give them a visually rich overview of Scrum."
One important aspect that distinguishes the "Quick Start Guide to Essential Scrum" from other commonly available Scrum overview documents is its use of the new Visual AGILExicon®, a language for describing and communicating core agile and Scrum concepts in a graphically rich and visually appealing manner. Images depict many complex concepts, such as agile portfolio planning, product backlog grooming, and the Scrum framework itself.
"Many people find it easier to understand and retain concepts by seeing clear and compelling visual representations rather than just text," said Rubin. "Anyone can come to Innolution.com and request a free license to use the images from the lexicon."
About Innolution, LLC and Kenneth S. Rubin
Kenneth S. Rubin is Managing Principal at Innolution, LLC, an agile training and coaching company that helps organizations develop products in an effective and economically sensible way. A Certified Scrum Trainer, Rubin has trained over 20,000 people on agile (Scrum and Kanban), Smalltalk development, managing object-oriented projects, and transition management. He has coached over 200 companies, ranging from startups to Fortune 10.
Rubin was the first managing director of the worldwide Scrum Alliance, a nonprofit organization focused on the successful adoption of Scrum. In addition to authoring the best-selling book Essential Scrum: A Practical Guide to the Most Popular Agile Process, he is also the coauthor of the 1995 book Succeeding with Objects: Decision Frameworks for Project Management. Learn about his background at: http://www.innolution.com and follow him on his blog at the same site. Follow him on Twitter using @krubinagile.