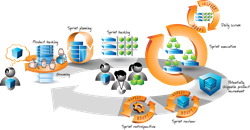 I am very pleased to see how Visual AGILExicon licensees are benefiting from its use!
Niwot, CO (PRWEB) August 27, 2013
Kenneth S. Rubin, agile trainer, coach, bestselling author, and Managing Principal of Innolution, LLC announces the latest licensing trends and results on the usage of the Visual AGILExicon® (VAL), which is available through a no-cost license from Innolution.com. Data from a recent Innolution survey indicate that worldwide adoption of the VAL is accelerating and that VAL licensees are delighted with the myriad ways they use it.
The Visual AGILExicon is a set of approximately 40 vibrant, four-color icons for composing graphically rich and visually appealing three dimensional representations of foundational agile and Scrum concepts. A recent survey of Visual AGILExicon users revealed that adoption of the VAL continues to accelerate. Since its release in November 2012, nearly 200 licensees in 33 countries and 29 US states have adopted it. Licensees represent many different industries, from agile consultancies to hardware giants like Intel.
According to the survey results, licensees use the icons and graphics for everything from internal presentations to training materials to coaching resources. Users also uniformly report that they find the images highly effective at explaining agile and Scrum concepts to others.
Suzanne Ward of Intel says she "highly recommends" Rubin's book and visuals: "I've read all the books; I am always looking for visuals that get my point across. No single source has been more useful in my training, mentoring and coaching. The visuals are clear and detailed enough to help tell the story." She adds that having free access to the Visual AGILExicon helps her "to meet Intel's copyright requirements for internal and external presentations."
Ward is not alone. Hemant Virkar CEO of Digital Infusion, Inc. says, "VAL has been invaluable to us ... the resources, especially the icons and graphics, are an exemplar of the phrase, 'A picture is worth 1000 words.' "
The survey respondents also say that Visual AGILExicon is especially helpful for establishing consistent internal training materials. "I've incorporated the graphics into the internal training material for our Introduction to Modern Software Development course," says Eric Jutrzenka of Actual Analytics.
Intel's Suzanne Ward agrees. "I built my entire training program based on VAL items. I think they are the clearest and easiest to discuss. They are detailed enough that they can be used to remind viewers of the topic. I also use them for mentoring and coaching and recommend the accompanying text [Essential Scrum] as the best on the racks."
According to the survey, what makes the Visual AGILExicon so popular with users is its uniformity and clarity. "The icons give a consistent visual message," says Al Kroska of Wolters Kluwer Financial Services. "For instance, the product backlog (with the darker color at top and thinner slices, less color, and taller slices at the bottom) helps people to understand the concept of refinement at a glance."
Eric Jutrzenka of Actual Analytics agrees, "As the Scrum Master it's absolutely critical that I can communicate Scrum concepts clearly and concisely to the rest of the organisation. The VAL is an excellent tool to do just that. It's also great to know that my presentations are wonderfully reinforced by the Essential Scrum book, as they use the same visual language."
Respondents report that the images from the Visual AGILExicon are being used for external conference presentations as well as other resources around their offices. In the words of John Good of Terp Sys, "The Visual AGILExicon is sure to become the industry standard for describing Scrum. I'd personally like to thank Kenny Rubin for creating and sharing them."
The Visual AGILExicon was created by Rubin and used in his Amazon #1 best-selling book Essential Scrum: A Practical Guide to the Most Popular Agile approach and in his very popular training classes including: Certified ScrumMaster, Certified Scrum Product Owner, and Working on a Scrum Team. The core icons include Scrum roles (such as ScrumMaster and development team), artifacts (such as product backlog and potentially shippable product increment), and activities (such as sprint planning and sprint review). These core icons are also used to compose approximately 70 pictures that represent more sophisticated concepts, such as the complete Scrum framework, portfolio planning, and product backlog grooming activities.
Individuals and organizations may obtain a no-cost license to use the VAL by visiting the Innolution.com website. Example licensees include Certified Scrum Trainers (CSTs), Certified Scrum Coaches (CSCs), internal corporate trainers, agile practitioners, and others who want an effective visual means of communicating agile and Scrum concepts.
Details on how to obtain a license and download the images from the Visual AGILExicon are found at Innolution.com.
About Innolution, LLC and Kenneth S. Rubin
Kenny Rubin is Managing Principal at Innolution, LLC, an agile training and coaching company that helps organizations develop products in an effective and economically sensible way. A Certified Scrum Trainer, Rubin has trained over 20,000 people on agile (Scrum and Kanban), Smalltalk development, managing object-oriented projects, and transition management. He has coached over 200 companies, ranging from start-ups to Fortune 10.
Rubin was the first managing director of the worldwide Scrum Alliance, a nonprofit organization focused on the successful adoption of Scrum. In addition to authoring the best-selling book Essential Scrum: A Practical Guide to the Most Popular Agile Process, he is also the coauthor of the 1995 book Succeeding with Objects: Decision Frameworks for Project Management. Learn about his background at:http://www.innolution.com and follow him on his blog at the same site. Follow him on Twitter using @krubinagile.