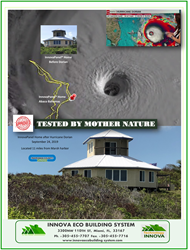 Jerry Gillman, CEO of Innova indicated that Innova has a solution for the Bahamas.
MIAMI (PRWEB) October 07, 2019
There is a manufacturing company in Miami making a name for its products hurricane reliance with natural disaster and storms like Dorian. Innova Eco Building System manufactures the InnovaPanel®, which is an insulated load bearing building panel used for constructing disaster resistant homes and light commercial structures. The InnovaPanels® is manufactured with magnesium cement which is stronger than traditional Portland cement.
Innova's Dorian Survivor home was the 37th home constructed with InnovaPanels® to "Weather the Storm" with no structural damage or water intrusion into the structure. The results have been the same each time "Mother Nature" has tested the InnovaPanel®. Category 4 Hurricane Irma pounded an InnovaPanel® home in the Florida Keys and category 5 hurricane Maria tested 34 InnovaPanel® homes on St. Croix Island with 200 mph wind bust and another home in South Carolina survived an EF2 tornado with minor siding damage and a cracked impact window. The homes involved in the four natural disasters have all been different designs and price structures ranging from million-dollar luxury homes to low income Housing Authority homes, all with the same amazing results.
Innova has two manufacturing lines in its Miami Facility and is in the process of setting up another line in Puerto Rico which it hopes to have operational shortly after the first of the year. Jerry Gillman, CEO of Innova indicated that Innova has a solution for the Bahamas. We can manufacture enough InnovaPanels® per 8-hour shift to rebuild 12 homes. That equates to panels for 36 homes a day, more than 1000 a month if we go around the clock. We can start shipping panels in a week and are able to train local forces to start rebuilding homes on existing concrete slabs almost immediately. We can start putting Bahamians to work rebuilding the Island within days.
On September 1, 2019, Category 5 Hurricane Dorian ravaged Abaco Island for more than 30 hours with 185 mph sustained winds and +200 mph wind busts, making it one of the strongest hurricanes ever recorded in the Atlantic to hit land. The destruction and loss of life is astounding with more than 50% of all structures on Abaco Island severely damaged by the superstorm.