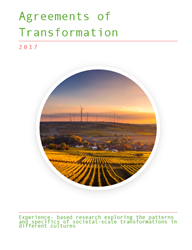 participants experienced societal scale transformation as a journey into the unknown, framed by a support structure described as 'psychologically safe', in which they enabled each other to find ways to walk into the future they see together
Columbus, Ohio (PRWEB) July 11, 2017
All of our interactions, both personal and professional, at the core involve a series of agreements. Since we all arrive where we are based on our specific enculturation, finding agreement in a global world presents a unique set of challenges.
According to a June 14, 2017, Forbes article by Maureen Metcalf, "For leaders embarking on large-scale or societal-level change, four commonalities offer insight into different ways of leading that increase the likelihood of success. These changes involve altering how we see our mindset as leaders, as well as changing our underlying agreements." Acknowledging the countless ways we each perceive things allows leaders to approach transformation with an open mind and a broad perspective, and to recognize the commonalities that transcend culture.
Metcalf, as the interview host, leads a discussion with Christoph Hinkse that explores his findings from conversations with 22 people from 18 countries from three continents as they shared their direct experience of successful societal-level transformations in different culture. During the interview, Hinske shares common themes across cultures, and transformation focus and recommendations that increase the probability of transformation success. He shares many quotes such as, "participants experienced societal scale transformation as a journey into the unknown, framed by a support structured described as 'psychologically safe', in which the enabled each other to find ways to walk into the future they see together."
The research and accompanying report was commissioned by the German government and focused on global transformations outside of Germany. Hinske interviewed 22 thought leaders about their personal experience in running large scale transformation processes. Specifically, he looked at the global implications of transformation by exploring the patterns and specifics of societal scale transformations in diverse cultures. It is now being leveraged by sustainability and transitions people around the world.
About the Center for Societal Smart Grid Design
The Center co-invests with initiatives that seek to shift agreement structures from scarcity to abundance. Its work and purpose is nourished by the insights generated in the field of ecosynomic research. It does so by generating (a) hybrid impact platforms for societal transformations and (b) spaces for ecosynomic deviants to generate artifacts of shared intention and value. Consequently, the center scales and multiplies meaningful relations within and among these organizations and groups. Currently, it does so in Europe, Africa, and North-, Central, and South America.
About the Institute for Strategic Clarity
The Institute for Strategic Clarity, chartered as a 501(c)(3) nonprofit research and education organization, supports research into the emerging field of Ecosynomics, clarifying the strategic understanding of how people consciously choose abundance-based agreements.
About Metcalf & Associates
Metcalf & Associates, Inc., is a leadership development and management consulting firm that uses an integrative approach to help leaders and their organizations innovate how they lead and how they operate, helping them thrive in a rapidly changing environment. It develops, tests, and implements emerging models that dramatically improve leaders and contribute to organizational success. Visit http://www.innovativeleadershipfieldbook.com to find out more about Metcalf & Associates and all the workbooks in the series.