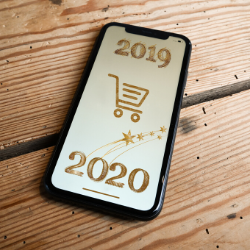 "While some of the technology powering these developments is new, the business concerns they address are as old as retail itself."
TAMPA BAY, Fla. (PRWEB) December 16, 2019
According to the latest figures from the Department of Commerce, U.S. eCommerce volume for the third quarter of 2019 was up 16.9 percent over the same period in 2018; eCommerce now accounts for 11.2 percent of total U.S. retail sales [1]. Monica Eaton-Cardone, a fintech executive and eCommerce specialist, looks at some leading industry trends she believes online retail merchants should take into consideration as they plan for the 2020s.
As with any rapidly changing activity, estimates vary as to just how many important trends are taking place, ranging in recent publications to as many as 402. Eaton-Cardone has identified ten she considers particularly noteworthy for eCommerce expansion; they fall into four general categories:
I. Customer experience. In a retail environment market in which gaining a significant advantage in terms of price or selection is virtually impossible, the major differentiator is the quality of the customer experience. Key trends in this area include:

Personalization. "Consumer privacy issues aside (see below), a merchant's ability to deliver a highly personalized experience may be the single greatest factor in determining success or failure in the coming decade."
Trust and privacy. "Here, consumer education is essential. Common misunderstandings about privacy and security can result in buyers losing trust in legitimate merchants while walking headfirst into scams perpetrated by fraudsters."
Unified commerce. "It's no longer multichannel, or even omnichannel: it's one channel. Every point of entry has to supply the same complete customer experience."
II. Business models. Retail is a brutally competitive business and shows no sign of becoming less so. The more efficiently every part of the enterprise works, the better the margins it delivers. Trends here include:

Customer analytics. "As available customer data becomes more and more granular, it will play a greater role both in personalizing the customer experience and optimizing the supply chain and product offerings."
Subscriptions. "Recurring billing is popular with consumers and good for cash flow, but it also results in increased numbers of chargebacks. We need to find a way to offer greater stability."
Enterprise marketplaces. "Particularly for brands not traditionally digital natives, this approach offers a quick pathway to establishing an online presence."
III. Infrastructure. The rules governing what a website is and does are changing rapidly. Here are some factors driving that change.
Visual commerce. "Expanding the ways a consumer interacts with a product image—clicking to see a garment on a model, a product information video, etc.—offers the closest possible analogue to an in-store experience, increasingly vital as channels merge into one."
API-based commerce. "Also called 'headless' commerce, it means that the backend of the website—fulfillment, billing, CRM, etc.—does not have to change to accommodate innovation in what the customer sees. It's a way to experiment without breaking things."
IV. Technologies to watch. There are some areas of development that we are pretty sure will be important, but less sure of when or how.
Artificial intelligence. "Rather than make sudden leaps forward, AI seems likely to develop steadily and gradually come into wider use."
"Thing" commerce. "The logical next step in the Internet of Things: a consumer could order milk from a smart refrigerator. Before wide adoption, some major progress will have to be made in customer verification."
"While some of the technology powering these developments is new," says Eaton-Cardone, "the business concerns they address are as old as retail itself.
"How do we attract, serve, and retain customers?
"How do we make money at it?
"How do we maintain security?
"In the coming decade, the innovations that see success will be the ones that best answer those questions."
About Monica Eaton-Cardone:
An acclaimed entrepreneur, speaker and author, Monica Eaton-Cardone is widely recognized as a thought leader in the FinTech industry and a champion of women in technology. She established her entrepreneurial credentials upon selling her first business at the age of 19. When a subsequent eCommerce venture was plagued by revenue-leeching chargebacks and fraud, Eaton-Cardone rose to the challenge by developing a robust solution that combined human insight and Agile technology. Today, her innovations are used by thousands of companies worldwide, cementing her reputation as one of the payment industry's foremost experts in risk management, chargeback mitigation and fraud prevention. As CIO of Global Risk Technologies and COO of Chargebacks911, Eaton-Cardone leverages her global platform to educate merchants on best practices in fraud prevention and to spotlight the competitive and economic advantages women can bring to the technology workforce. Her nonprofit organization, Get Paid for Grades, invests in students to inspire a new generation of innovators. Get to know Eaton-Cardone at http://monicaec.com.
1. "Quarterly Retail eCommerce Sales, 3rd Quarter 2019," U.S. Department of Commerce, November 19, 2019.
2. Ogonowski, Pawel, "The Top 40 Ecommerce Trends for 2020," Growcode, November 19, 2019.
# # #