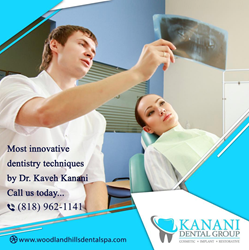 WOODLAND HILLS, Calif. (PRWEB) May 14, 2019
Innovative family dentist, Dr. Kaveh Kanani, is helping patients suffering from gum recession with a minimally invasive treatment method. Utilizing the highly successful Pinhole® Surgical Technique, Dr. Kanani is improving patients' smiles and saving the life of their oral health.
According to Dr. Kanani, now is one of the best times to be practicing dentistry. With the many innovative tools and systems available, patients can get the best treatment with little to no pain. The Pinhole® Surgical Technique is among the most innovative methods to treat gum recession. Gum recession is one of the most common dental problems facing adults in America. Most people might not even know their gums are receding because it happens slowly. As a sign of gum recession, individuals might notice that their tooth looks more prolonged than before. It appears longer because the gums are receding, exposing more of the root. Another sign is tooth sensitivity when eating or drinking something cold.
Causes of Gum Recession
Several factors can lead to gum recession, including genes, poor dental hygiene, hormone changes, aggressive tooth brushing, and periodontal disease. Though it is a common problem, gum recession is a serious issue. If left untreated, gum recession can alter a patient's smile, resulting in them feeling embarrassed to show their teeth. Also, if an individual with signs of gum recession does not consult a dentist early on, the gum tissue and bone structure of the teeth can become severely damaged. In very severe cases, gum recession can even lead to tooth loss. Therefore, if individuals experience any of the above issues, or see any changes in their smile, Dr. Kanani advised they consult with a dentist immediately.
The Pinhole Surgical Technique
By utilizing the Pinhole® Surgical Technique, Dr. Kavani can return receding gum tissue to their routine, shielding position without the use of scalpels, sutures, or invasive surgical tools. To administer the procedure, Dr. Kanani uses a needle to make a small hole in the patient's existing gum tissue. Through this Pinhole, specialized dental instruments are used to loosen the gum tissue softly. These tools help lift and slide the gum line in place to cover the exposed root. Unlike traditional recession treatments, the Pinhole method is incision- and suture-free. Dr. Kanani completes the procedure in one day in his eco-friendly dental office in Woodland Hills. Also, patients experience a shorter, less painful healing time due to reduced shock to the gums.
Preventing Gum Recession
Dr. Kanani encourages all patients to take care of their gum health by practicing good dental hygiene habits. According to Dr. Kaveh Kanani, individuals should ensure they are brushing and flossing correctly every day. Some ways to prevent gum recession include avoiding the use of tobacco products, maintaining a healthy and well-balanced diet, and keeping track of any changes to your mouth. Also, individuals should make appointments to see their dentist at least twice of year, or as advised.
About Dr. Kanani
As one of the most innovative dentists in Los Angeles, Dr. Kanani's objective is to help patients regain their smiles and their confidence through groundbreaking, non-invasive treatments such as the Pinhole® Surgical Technique. Dr. Kanani has been utilizing non-invasive treatment methods to heal patients suffering from many dental issues, including gum recession. Individuals in Los Angeles and Woodland Hills who are showing beginning signs of gum recession can make an appointment with Dr. Kanani today by calling (818) 962-1141, or visiting http://www.woodlandhillsdentalspa.com.