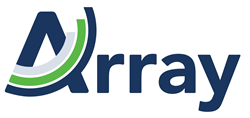 "Our clients and partners have always come first both as individual companies and now together as one," said David Vandygriff, Chief People Officer of Array. "We're excited to continue serving them and offer them new ways to work with Array."
AUSTIN, Texas (PRWEB) August 18, 2020
After joining forces earlier this year, leading litigation support companies Innovative Litigation and iNSERViO3 today announced they will begin operating as one brand under a new name – Array. The change reflects the combined new company's range of services spanning eDiscovery, managed review, traditional discovery, and electronic deposition exhibits nationwide, and alternative dispute resolution and subpoena services in California.
"The merger of our companies created a comprehensive solution for legal departments and law firms led by service and backed by a team of industry-leading subject matter experts," said Thadd Hale, Chief Executive Officer of Array.
"Our clients and partners have always come first both as individual companies and now together as one," said David Vandygriff, Chief People Officer of Array. "We're excited to continue serving them and offer them new ways to work with Array."
In addition to a name change, the launch of Array includes unveiling a new logo and website that support and communicate the integration of two reputable companies and their unified brand's significant value creation for law firms and corporate legal departments.
Array manages the logistics of litigation so lawyers can focus on winning their cases. The company combines the latest technology with battle-tested human know-how to inform smart, results-driven strategies from intake to outcome. As one of the first service providers to adopt RelativityOne, Array offers unmatched depth and breadth of experience in this industry-leading platform:

Six RelativityOne Certified Pros on staff
Project management and client services teams with years of experience working in RelativityOne and administering a RelativityOne environment
Hundreds of migrations completed from Relativity Server to RelativityOne
Early adopter of Relativity's Aero UI; adept at functionality and features
Array continues to be privately owned under direction of leadership from Innovative Litigation and iNSERViO3. The combined team brings extensive experience building and growing innovative legal technology companies.
"Remaining a founder owned company means our primary duty is still to our clients and our employees – so we can continue prioritizing providing custom solutions for our clients," said Hale. "Our look may be changing but our commitment to working as our clients' support partner delivering speed, accuracy, and unmatched service is unwavering."
Array has offices in California, Texas, Illinois, Pennsylvania, Ohio and Washington DC. The company's staff provides around-the-clock availability to clients nationwide, with exception to its California-specific alternative dispute resolution and subpoena services.
Visit trustarray.com to learn more about services and experience, read testimonials and more.