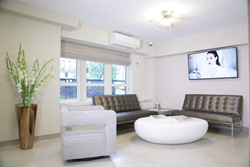 Feeling and looking good go hand-in-hand. The genesis of Inside Beauty came from listening to our loyal clients and understanding that non-invasive spa treatments coupled with holistic approaches to wellness is the key.
NEW YORK (PRWEB) December 04, 2018
Drs. Ramtin and Sheila Malek Kassir, renowned cosmetic and plastic surgeons, announce the Grand Opening of Inside Beauty: a medical aesthetic spa located on 799 Park Avenue in New York City. Inside Beauty is designed to serve clients seeking non-invasive treatments that support wellness, beauty and nutritional health.
These forward-thinking physicians have brought together a team of medical, beauty and wellness professionals that understand key drivers and motivations of today's medi spa clientele. Providing personalized experiences, Inside Beauty will offer the latest advances in lasers and energy devices (fat freezing, muscle tightening, radiofrequency, ultrasound) for full face and body rejuvenation. The Physicians will also provide facial contouring and enhancement with the newest advancements in injectables, neuromodulators, PRP and stem cell therapy.
"Feeling and looking good go hand-in-hand. The genesis of Inside Beauty came from listening to our loyal clients and understanding that non-invasive spa treatments coupled with holistic approaches to wellness is the key. Our ability to have trained medical personnel and specialized beauty and wellness professionals on hand to assist clients on this journey is the differentiator," said Dr. Sheila Kassir. "We are thrilled with the number of partners who are working with us to create this unparalleled experience!"
Inside Beauty will have its Grand Opening and Open House on Thursday, December 6th. The official ribbon cutting takes place at 5pm. Live expert demos that will be performed that night include:

"Designer Nonsurgical Rhinoplasty®"
"The Instagram Doll Package: I never use filters," which includes a combination of dermal fillers, radiofrequency and Kassir Derm medical grade skincare products for the perfect filter free look
"Steel Body," the first FDA approved treatment shown to build muscle and burn fat (EmSculpt®)
"Lift Me!," lifting and skin tightening for face and body (Exilis®)
"Fat Freezing" FDA approved nonsurgical fat reduction (CoolSculpting®)
Inside Beauty will also have an on-site board certified OB/GYN, Dermatologist and Nutritionists ensuring that clients get customized treatments, tailored to individual needs
Dr. Ramtin Kassir has been in private practice since 1997 and has extensive experience in the fields of facial plastic and cosmetic surgery, endoscopic surgery and laser surgery. His clients include A–list celebrities, entertainment and fashion icons, supermodels, business executives, royalty, as well as other medical and licensed professionals from around the world. His surgical skills and clinical judgment including rhinoplasty are valued and thus sought by an expansive international clientele. Dr. Kassir also lectures internationally and currently assists other plastic surgeons from around the world in further refining their surgical techniques while continuing to share and develop innovative and modern surgical concepts.
Dr. Sheila Malek Kassir is a board certified plastic surgeon from Germany and an internationally recognized beauty expert on novel and trusted cosmetic procedures including the latest beauty trends and innovations from Europe. She first saw the gap between scientific advances in beauty and common beauty trends during her career as a German film and TV actress. With her personal experience in the industry she was uniquely positioned to provide novel cosmetic advances to her fellow co-stars and thespians. Dr. Malek Kassir then decided this information and the services of the latest beauty techniques should be more accessible and travelled the world searching for differences in beauty techniques and standards and latest plastic surgery techniques to bring to everyone. With her vast expertise and experience, Inside Beauty will open minds and eyes to innovative treatments, procedures and self-care that produce optimal levels of beauty and wellness with scientific intellect.
"A number of Celebrity Guests and VIPs have confirmed attendance at our Grand Opening on December 6th, and we plan to announce their presence soon. Media is also encouraged to attend the Grand Opening to learn about all that Inside Beauty has to offer," said Dr. Sheila Kassir.
A limited number of gift bags will be given to attendees who RSVP, and will include products and samples from Kassir Derm and Inside Beauty partners including Babor and Merz Aesthetics. To RSVP for the Grand Opening on Dec. 6th please email info(at)insidebeautyspa.com or call 1-888-503-6668.
About Inside Beauty
At Inside Beauty we emphasize customized treatment and step-by-step guidance. Our entire medical team consists of highly trained experts in the field of aesthetics and cosmetic plastic surgery. We give our patients the "full package" when it comes to cosmetics, offering our best insight into what will work best for the perfect you. With our all-in-one transformative packages, patients can feel confident trusting Inside Beauty to take care of them from head to toe. http://www.insidebeautyspa.com. Follow @insidebeautyspa and @drkassir on Instagram.