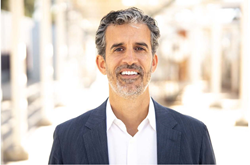 I am honored to assume leadership of IMT and am resolved to realize its potential helping customers successfully deliver their solutions for cell therapy, optical communications, autonomous vehicles, DNA sequencing, IoT sensing and many other important fields. Eric Sigler, CEO
SANTA BARBARA, Calif. (PRWEB) April 15, 2020
Innovative Micro Technology (IMT), one of North America's leading microelectromechanical systems (MEMS) technology companies, announces that Eric Sigler has been promoted to Chief Executive Officer. Additionally, Johan Denecke, who previously led manufacturing and quality at Illumina and Thermo Fisher, has joined IMT as its new Senior Vice President of Operations. This completes the company's rapid transformation initiative, which was launched with Cerium Technology's lead investment in late 2018.
Eric Sigler joined IMT in late 2018 as senior vice president of strategy and business development. In addition to his deep knowledge of the MEMS industry, he has worked in strategy, product management, M&A and venture capital for over 20 years. He was previously VP of corporate development, production management, and business development with Tessera Technologies. Eric was also a partner with Scale Venture Partners, where he led semiconductor investments. He started his career as a strategy consultant with Mercer Management Consulting. He holds a bachelor of business administration degree from the University of Massachusetts, Amherst and an MBA from the Haas School of Business at the University of California, Berkeley.
"We are thrilled to have Eric serve as IMT's new chief executive officer," said Eldon Klaassen, chairman of the board. "He has an incredible passion for the promise of MEMS to empower the future and a clear vision to make IMT one of the world's premier MEMS technology companies."
"As a venture investor in IMT in the 2000s, I always felt the company had amazing potential to help solve the great problems of our time," said Eric. "I am honored to assume leadership of IMT and am resolved to realize its potential helping our customers successfully deliver their solutions for cell therapy, optical communications, autonomous vehicles, DNA sequencing, IoT sensing and many other important fields."
Johan Denecke also joins IMT as its new senior vice president of operations, where he now leads the quality, manufacturing, supply chain, and operations departments. He comes to IMT from leading biotech company Illumina, where he was vice president of life cycle management and vice president of manufacturing. Prior to Illumina, he managed 300+ quality professionals as the VP of quality assurance of Thermo Fisher's Life Sciences Division. Johan began his career at Allied Signal and Lockheed Martin driving lean manufacturing and Six Sigma transformations. Over the years, he has applied best-in-class operational practices as a consultant, most recently in the life science industry. He holds bachelor's and master's degrees in aerospace engineering from the Massachusetts Institute of Technology. He is a certified lean production expert and a Six Sigma master black belt.
Eric regards Johan as a key player in taking IMT to the next level: "He brings a diversity of experience in both the biomedical and advanced engineering fields. We are thrilled to leverage his decades of success leading and scaling manufacturing teams in both high growth and regulated industries."
"I have a deep passion and experience creating life-changing technologies in aerospace, automotive and the life sciences. IMT has an incredible future providing cutting-edge solutions for a similarly diverse set of applications and in industries that are rapidly growing," said Johan. "I am energized by the opportunity to apply lean and Six Sigma to transform our operations and deliver world-class capabilities to our customers."
Rounding out the transformation of IMT's new leadership team is the promotion of Brian Maertz to lead IMT's development team as vice president of engineering. Maertz began at IMT in 2018 as a technical program manager. Before joining IMT, he was the principal process engineer at Freedom Photonics, where he improved the processes and performance of photonic devices including lasers, photonic integrated circuits and high-speed photodiodes. He began his career at Intel as an integral member of the eNVM MRAM development team, a technology for which he holds eight patents. He also worked on a transistor technology node, from early development through product launch. He has a PhD in physics from the University of California at Santa Barbara, and a bachelor of science in physics from the University of California at San Diego.
About IMT
Innovative Micro Technology, Inc. (IMT) designs and manufactures microelectromechanical systems (MEMS) and wafer-level optics for sensing, communications and biomedical applications. The company partners with innovative customers to solve challenging technical problems and deliver breakthrough MEMS-based solutions. IMT is the largest MEMS foundry in the US, serving customers from its 30,000 square-foot class-100 wafer fabrication facility in Santa Barbara, supported by a dedicated staff of over 110 MEMS experts. IMT's extensive experience spans the full spectrum of MEMS, including optical benches, sensors, mirrors, relays and RF switches, and microfluidic biochips. Visit http://www.imtmems.com.