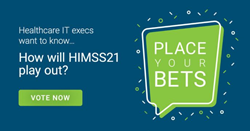 "We've partnered with several innovative HIT vendors to pool resources to gain the economies of scale necessary to break through the noise and make a major impact," -- Tim Busche, MBA, CEO of Envision Health
BLOOMFIELD HILLS, Mich. (PRWEB) May 13, 2021
Envision Health today announced the Envision Health Collaborative designed to help HIT vendors achieve greater success at HIMSS21 and other leading conferences. For many providers, payers and HIT vendors, HIMSS21 may represent their first opportunity to participate in a major in-person conference since early 2020. And, as our healthcare system gains control over COVID-19, IT professionals are now facing some tough questions:

What are the best strategies for success at HIMSS?
How should my organization participate?
Is HIMSS taking the necessary precautions to ensure our safety?
Do you think the modified digital format will be as beneficial?
To help answer these questions, Envision has created the "Place Your Bets" survey for HIT professionals to answer these questions and see how their responses compare to those of their peers.
"On one hand, hospitals are struggling with limited budgets as the COVID pandemic persists. However, HIMSS21 remains an unprecedented opportunity for networking around IT innovation. I think IT execs will find it interesting to hear what their peers are planning," said Arthur Young, MSW, MBA, President of Interbit Data, of the survey.
Tim Busche, MBA, CEO of Envision Health agreed: "HIT vendors have often struggled to generate a positive ROI from their HIMSS investments, and this is even more challenging given today's uncertain times. We've partnered with several innovative HIT vendors to pool resources to gain the economies of scale necessary to break through the noise and make a major impact. Larger vendors tend to garner a disproportionate share of voice at major conferences and, through this collaborative, we're helping to level the playing field for mid-tier HIT vendors, consultants and healthcare innovation hubs."
In addition to the survey, at HIMSS21 the Envision Health Collaborative will offer numerous options including fractional space in a hospitality suite, on-site meeting rooms and evening entertainment options to make the conference a more cost-effective, productive experience for small- and mid-tier participants.
"This collaborative brings together decades of event management experience along with clinical expertise and real-world healthcare knowledge. And it leverages these resources to attain a higher level of brand exposure and sales efficiency than individual players could achieve on their own." Busche says.
Take 30 seconds to complete the four-question "Place Your Bets" survey now. Results of the survey will appear here until the HIMSS21 conference.
Please direct media inquiries regarding EHCI to Susan Thwing, Public Relations Manager, Envision Health at susan@envhs.com or (248) 396-1083.