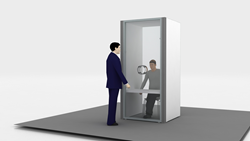 "Adding an extra layer of protection between patients and frontline workers really benefits both parties." - Bruce Powell, President and Founder of BioMax
MINNEAPOLIS (PRWEB) April 08, 2020
BioMax is continuing to add to their lineup of healthcare products with new POD solutions. These structures were inspired by South Korea's implementation of similar units which has proven to be very successful in guarding against disease transmission. By using a strategically designed barrier system, BioMax PODS allows care givers to have safe face-to-face interactions with potentially infected patients. With no end to PPE shortages in sight, healthcare providers are seeking ways to increase the longevity of this equipment as much as possible. "Adding an extra layer of protection between patients and frontline workers really benefits both parties." said Bruce Powell, President and Founder of BioMax.
While most automatically think of doctors and nurses when "the frontline" is mentioned, the first point of contact often comes long before these providers even see the patient. As a result, healthcare facilities are looking for ways to better protect their reception and admission staff from the threat of COVID-19. BioMax PODS are a huge advantage for buildings wishing to safeguard these essential employees and can be used as a simple protected reception station or upgraded to include integrated porthole gloves for safe testing. Each POD is completely turn-key including professional on-site installation and dismantle. Constructed of aluminum framework with PVC panels, BioMax PODS can be adjoined to create multiple inline testing stations, are movable, and are easy to disinfect. Fully enclosed options are also available that allow for climate control and HEPA filtration.
Currently BioMax offers three designs based on a variety of needs; all of which can be installed in a facility within 2 hours. With rental periods starting at three months, PODS give healthcare providers the ability to act quickly without large overhead investment. BioMax PODS are in stock and ready to ship, giving providers a timely response to growing concern for frontline workers.
###
ExhibitMax and BioMax PODS are either registered trademarks or trademarks of ExhibitMax Inc.
The names of actual companies and products mentioned herein may be the trademarks of their respective owners.
For more information on BioMax Isolation Systems:
https://biomaxsystems.com/
For pricing and availability, please contact:
Bruce Powell
(952) 641-6771 or (612) 804-9264
bpowell@exhibitmax.net