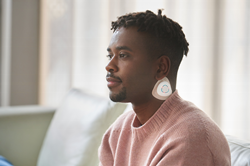 "We understand that a product like Buddie is new to most people," said ROOTONIX CEO Dae Kwon Jung. "But we appreciate the attention it's getting, from praise to questions. We knew presenting Buddie to a crowd of early adopters was the right move."
COSTA MESA, Calif. (PRWEB) April 26, 2021
Many hair care products in the market try to promote hair growth without focusing on the problem at its core – the scalp. The ROOTONIX team argues that a clean scalp is an important step in ensuring healthy hair growth. Their solution to the ultimate scalp treatment is Buddie. After launching Buddie on Indiegogo on April 19th, 2021, the product has received a great amount of attention, allowing it to achieve its funding goal in just 2 hours since going live.
Buddie is a scalp care device that has two components, the patch and the device, to provide a holistic form of treatment. The patch contains a rich serum formulated from natural ingredients like ginger root and green tea extract as well as those known to soothe the skin like salicylic acid and hydrolyzed collagen. The patch is then attached to the device which uses iontophoresis, a delivery method used in physical therapy, to effectively absorb the patch's nutrients into the bloodstream. These nutrients then flow up to the scalp and get evenly spread.
The team expressed excitement in how well Buddie was being received by the Indiegogo community. "We understand that a product like Buddie is new to most people," said ROOTONIX CEO Dae Kwon Jung. "But we appreciate the attention it's getting, from praise to questions. We knew presenting Buddie to a crowd of early adopters was the right move."
Jung also noted that transdermal patches were becoming a popular type of drug delivery. However, most of those nutrients aren't absorbed below the skin when patted down just with hands. A test conducted by Rootonix showed that the patch's nutrients were absorbed 8 times more effectively when its iontophoresis device was used than without it.
Buddie will be available for up to 37% off retail during its 30-day Indiegogo campaign until May 19th, 2021. To learn more about the product, please visit its Indiegogo page.
About ROOTONIX Co., Ltd.
ROOTONIX is a Korean tech start-up specializing in scalp care. The team aims to make scalp care accessible to normal consumers by simplifying clinical forms of treatment in its innovative products. The team also won global patent awards, most recent of which was the Grand Prix Award at the 2021 International Exhibition of Inventions Geneva. To learn more about the team, please visit http://rootonix.com/.