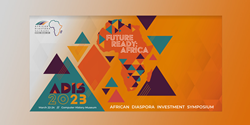 I look forward to engaging with the African and African diaspora communities to explore possibilities and build bridges between Africans, African diasporans, and friends of Africa to help drive transformational economic, environment, and social change on the continent. - Almaz Negash
SILICON VALLEY, Calif. (PRWEB) March 13, 2023
The African Diaspora Network (ADN) will host the eighth edition of the African Diaspora Investment Symposium (ADIS23) from March 22 - 24, 2023 at the Computer History Museum in Mountain View California. This year, ADIS explores the theme - Future Ready Africa, with discussions around trending innovations, blueprints for the future, and the interconnectedness of sectors such as climate change, healthcare, finance, education, and agriculture.
ADIS, which is ADN's annual flagship symposium, will convene Africa-focused investors, entrepreneurs, high-level leaders and professionals from across four continents and 23 countries for insightful dialogue around investment and innovation in Africa, supporting the continent to chart a course forward for large scale development across sectors.
"Africa must plan for a sustainable recovery and reimagine its path forward. What does a future ready Africa look like? How can we transform the continent through innovation, entrepreneurship, investment, and human capital development?" says Almaz Negash, Founder and Executive Director of African Diaspora Network. "I look forward to engaging with the African and African diaspora communities to explore possibilities and build bridges between Africans, African diasporans, and friends of Africa to help drive transformational economic, environment, and social change on the continent and the communities in which we live."
Keynote speakers at ADIS23 include the Honorable Ms. Mia Mottley, Prime Minister of Barbados; Travis Adkins, President and Chief Executive Officer, United States African Development Foundation (USADF); Monica Shupikai Simmons, Head of Africa – ICON Tech Investment Bank; Patrick Awuah, Founder & President, Ashesi University; Kaye-Anne Greenidge, Chief Executive Office, Invest Barbados; Iyinoluwa Aboyeji, CEO and General Partner of Fund for Africa's Future (Future Africa); Mary-Ivy Mbayah, Global Innovation, EY Sustainability; Stephen Gelb, Senior Research Associate, ODI; Connie Tzioumis, Director for Partnerships, U.S. Department of State; and Latanya Mapp Frett, President and CEO, Global Fund for Women.
ADIS23 will feature panel discussions, networking opportunities, keynote speeches, and side events covering a wide range of relevant topics that are critical for the growth and development of Africa. Discussions will focus on diaspora engagement beyond remittances, climate change, digital transformation, ESG, healthcare infrastructure, among others.
The symposium will also recognize exemplary individuals who have made remarkable contributions to Africa and the African diaspora community through the Barka Awards and the African Diaspora Luminaire Awards. This year, the Barka Award will be presented to Dr. Amadou Alpha Sall, the CEO, Institut Pasteur de Dakar in Senegal, for his leadership and contribution to healthcare development in Senegal and Africa. Ten Luminaire Awards will also be presented to distinguished Africans and Diasporans making high-level impact on a global scale and have demonstrated their commitment to advance the African continent.
This year's symposium, which is the first in-person gathering since the pandemic, is sponsored by Bill & Melinda Gates Foundation, Sanofi, United States African Development Foundation, Invest Barbados, Hugh Stuart Center Charitable Trust, Conrad N. Hilton Foundation, EY, Global Fund for Women, King Baudouin Foundation United States, Africa No Filter, Mastercard Foundation, Center for African Studies, eBay, Millennium Challenge Corporation, allAfrica, William H Cilker Family Foundation, Ashinaga USA, and USA for IOM.
For additional information about ADIS23 registration, speakers, and agenda, please visit https://africandiasporanetwork.org/programs/adis23/. For media inquiries please email Damilola at damilola@baobab-consulting.net.
ABOUT African Diaspora Network
Founded in 2010, African Diaspora Network (ADN) is a Silicon Valley-based nonprofit that promotes entrepreneurship and economic development on the African continent and in the communities where the African diaspora live. We bring together Africans on the continent, in the diaspora, and friends of Africa to actualize their full potential, activate their entrepreneurial spirit, and strategically mobilize financial and intellectual resources to ensure a brighter future for the African continent. Learn more about ADN and the upcoming ADIS event by visiting http://www.africandiasporanetwork.org.