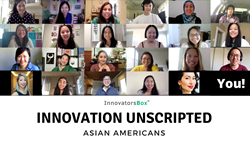 Your voice matters. Your stories matter. We all have a story to share.
WASHINGTON (PRWEB) May 21, 2020
InnovatorsBox is excited to launch "Innovation Unscripted" that features innovators who share their authentic stories and explore what it means to be innovative. Every month a different group of innovators is celebrated to highlight their diverse stories. In honor of Asian Pacific Islands Heritage Month, we're delighted to feature 22 Asian American innovators from a public casting call to kick off our first two episodes.
Founder and CEO Monica H. Kang hopes "Innovation Unscripted" celebrates the diversity in innovation and demystify how everyone can be creative. "Many people feel that they are not creative because they don't hear enough stories of innovators that look like them. As we reimagine how to live with COVID-19, I wanted to inspire and empower more people how they can be innovative by celebrating diversity in innovators," said Kang. The unique interactive show structure is also intentional, "We didn't want to have another lecture or traditional Q&A type format where viewers are passive. We learn best through experience so through each episode I plan on bringing more fun, interactive ways to engage viewers and speakers."
The first two episodes aired May 13 and May 20, 2020; highlighting 22 innovators that untangled how being Asian American shapes their work as innovators. In upcoming episodes, InnovatorsBox will highlight stories of innovators who are parents, college students, scientists, immigrants, and more. All episodes will be available on InnovatorsBox's Youtube Channel at http://www.youtube.com/InnovatorsBox.
InnovatorsBox specializes in the science and strategy of workplace creativity to unlock the creative mindset for all to help them thrive at work or school. InnovatorsBox provides workshops, facilitation, speaking, coaching, consulting, and team building tools to help our clients rethink culture, leadership, and team development.
Company: http://innovatorsbox.com/
Facebook: https://www.facebook.com/innovatorsbox
Instagram: https://www.instagram.com/innovatorsbox
LinkedIn: https://www.linkedin.com/company/innovatorsbox