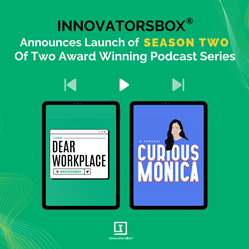 As someone who advocates and celebrates diversity of perspectives, I'm very intentional with inclusivity.
WASHINGTON (PRWEB) August 31, 2021
InnovatorsBox® is wrapping up Season 1 of their podcasts Dear Workplace and Curious Monica, with plans to launch Season 2 this October. The podcasts are produced by InnovatorsBox Studios™, a division of InnovatorsBox, LLC, to help reimagine how listeners thrive at work with groundbreaking solutions. Founder & CEO of InnovatorsBox, Monica H. Kang hosts both podcasts.
The podcast series premiered in March 2021 to not only groom listener's creative and leadership skills, but also to emphasize the importance of inclusivity. Rather than feature one guest per episode, Kang interviews several experts to provide diverse perspectives and emphasize the importance of inclusivity in the workplace.
"When we bring people from diverse backgrounds, nationalities, and cultures, experiences, and walks of life together, we're bringing a fresh array of perspectives to the table. That is a powerful thing and as someone who advocates and celebrates diversity of perspectives, I'm very intentional with inclusivity," says Kang.
While both podcasts center around the workplace they have separate focuses. Dear Workplace showcases changes, trends, and challenges in the workplace featuring episodes like "Inclusion Dilemma" and "How To Do More With Less." Curious Monica studies how innovators thrive in different jobs, providing insight into specific industries that anybody could learn from. Episodes of Curious Monica include "Creating with Purpose: Working in Entertainment," and "Writing for Good Change: Authors."
"Dear Workplace assembles talented business people from across industries to provide insights on what to do - and not do! - as well as how to handle people, solutions and pressure," says Bal Chandra, one 5-Star Podcast Review fan. "No filter and no fluff. I listen to a lot of podcasts and I have to say that Curious Monica is like a breath of fresh air! Listening to more than one guest gives me multiple perspectives. Just very insightful and fun," says another fan, David R.
More than 18 episodes of the podcasts will be released by the end of August, including a summary video highlighting key advice of the over 90 guests interviewed. In the past six months, both podcasts totalling over 40 episodes and containing original music, have over 3,030 downloads from over 20 countries. The podcasts have also received awards and recognitions, including the Best Forward Together Podcast Award by an Asian American Host by Apple during May AAPI Heritage Month and the Best Business Podcast Award in 2021 by IndyPopCon.
The show will take a break in September before returning with new stories and research on the future of work, remote workplaces, and cultural development shifts with diverse global leaders in Season 2. In the meantime, Kang is releasing an adoption of her book Rethink Creativity into a podcast in September.
For partnership, sponsorship and guest participation at our shows, please reach us at info@innovatorsbox.com. You can read more about our latest podcast updates on our blog or on our social media.
ABOUT InnovatorsBox® Studios
InnovatorsBox® Studios (IBS), a division of InnovatorsBox, LLC, based in Washington, DC, is a global production studio of content that unlocks innovation and creative thinking for C-level executives, mid-level managers, and frontline workers. Through music, podcasts, and other entertainment mediums, IBS enables leaders to hone their creativity to solve complex problems and execute sustainable change.
CONTACT: Monica H. Kang
USA +1.202.256.0303
info@innovatorsbox.com