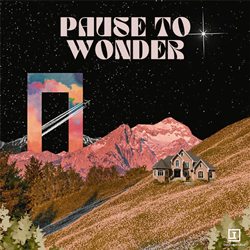 "When holiday albums focus only on positivity, they overshadow all the other mixed feelings we feel. 'Pause to Wonder' wants to change that by celebrating the festivities as well as pause, recharge, restart and the courage innovators' take to find new paths of possibilities."- Monica H. Kang
WASHINGTON (PRWEB) November 23, 2021
InnovatorsBox Studios (IB Studios) released a holiday music album today, "Pause to Wonder" featuring a mix of unique tracks that tell a timeless, holiday story designed to relate to a more inclusive, international audience. The lo-fi and soul focused album features all original tracks including a mix of original vocal tracks, instrumental tracks, and covers in multiple languages. IB Studios says the album was designed to create a sense of holiday nostalgia and hopefulness matched with a modern, nonsecular twist. "Pause To Wonder" released November 23, 2021, is available on all music streaming platforms such as Spotify, Apple Music, and Youtube. Listen to our music here.
"We wanted to create a holiday album to celebrate all the joys, feelings, transitions, growths, and adventures we're navigating as innovators," says Monica H. Kang, creativity workplace expert and Founder & CEO of InnovatorsBox® and InnovatorsBox Studios™. "Some of us may be still far away from our family and loved ones and some of us are finally able to make space to rest and pause. Yet when most holiday albums focus only on positivity it overshadows all the other mixed feelings we feel. 'Pause to Wonder' wants to change that by celebrating the festivities as well as pause, recharge, restart and the courage innovators' take to find new paths of possibilities."
The IB Studios team says they intentionally designed the album to stand out against traditional holiday music that can oftentimes feel a bit outdated or inauthentic. Kang also says that the past few years have changed the holiday experience as we know it. According to IB Studios Singer-Songwriter, Serin Oh and Music Producer Isaiah Weatherspoon, the album is designed to fit the modern, holiday experience as well as a modern, cross-generational/cross-cultural audience.
"The commonality we came back to was the lack of diversity in the commercial holiday music we enjoyed," says Serin Oh, Singer Songwriter, and Isaiah Weatherspoon, Music Producer at InnovatorsBox Studios. "Even the pieces we loved and adored, we realized did not fully represent how everyone felt, and we wondered what could really be created to speak for all innovators," says Giorgio Schipani, Music Audio Engineer at InnovatorsBox Studios.
"Pause to Wonder" is also the first project all ten of the IB Studios team members remotely came together to co-create and bring uniqueness to each track.
"From the inception of the project idea to the actual development we came together as a team to share our dreams on what this album could be and why it was important for us," says Kang.
To learn more about the IB Studios Team's journey in working on "Pause To Wonder," read the blog here. To browse our music and creative production to boost innovation and creativity, visit Music By InnovatorsBox at https://music.innovatorsbox.com.
For information please reach us at info@innovatorsbox.com. If you're interested in music production services check out our music services here.