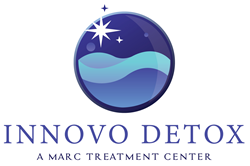 We offer vital, lifesaving, life-sustaining detox and medical stabilization services and help patients begin their journey of recovery
ABBOTTSTOWN, Pa. (PRWEB) May 19, 2020
Innovo Detox, a MARC Treatment Center, has opened it's doors in Pennsylvania, serving patients since March 16, 2020. A new, freestanding healthcare facility, Innovo Detox will offer detox, withdrawal management, and medical stabilization services for individuals suffering from addiction, substance use disorder, and co-occurring disorders in the local community, from the state of Pennsylvania, and throughout the Mid-Atlantic and surrounding areas.
Innovo Detox has common ownership with Maryland Addiction Recovery Center (MARC), a nationally recognized extended care addiction treatment facility located in Towson, Maryland. However, as a separate organization, will operate independently in order to greater serve those in need, the local community, and partner organizations within the behavioral healthcare field.
"We have always believed that any new organization should fill a substantial need," Innovo Detox Co-Founder and CEO Sam Bierman said. "We certainly knew that there is a need for these types of comprehensive medical and therapeutic services due to the ongoing addiction epidemic. We also know there was a lack of freestanding detox options throughout the area. So Innovo Detox will be able to support individuals and families in those first days of seeking recovery."
Innovo Detox will operate with 24 hour medical staff, provide ongoing clinical programming through it's clinical staff, and 24 hour support through it's recovery support staff and admissions teams. Addiction is a chronic illness, and detox and stabilization is traditionally the first step someone will take to access care. Once stable, Innovo Detox' staff will support each patient onto the next appropriate step in treatment, facilitating a vital continuum of care to support long-term, sustainable recovery.
Innovo Detox ownership has tapped Molly Ashcroft to assume the role of Executive Director of the new facility. An experienced professional in the behavioral health and addiction treatment space for over a decade, Molly will be tasked to lead the new facility to provide the highest quality of patient care through the latest in evidence-based medical and therapeutic approaches.
"I am extremely excited and proud to be sitting as the Executive Director of Innovo Detox," stated Molly Ashcroft, CADC. "We offer vital, lifesaving, life-sustaining detox and medical stabilization services and help patients begin their journey of recovery. I feel inspired each day by our team of medical professionals, clinical professionals, and administrative staff that show up day in and day out to help those that are seeking a new way of life."
In an effort to make these vital services more accessible and affordable, Innovo Detox is already an in-network provider for Geisinger Health Plan, Highmark Blue Cross Blue Shield, and associated Blue Card Member plans.