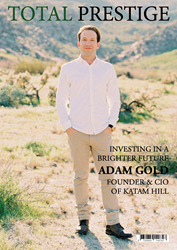 "I enjoyed the conversation with Total Prestige," said Adam Gold. "Reflecting upon my investment management experiences, I shared how they collectively influence Katam Hill's focus and shape the strategy that is best for clients; and why I am so excited for the future."
LOS ANGELES (PRWEB) October 19, 2020
Adam Gold - the Founder & CIO of Katam Hill LLC ("Katam Hill") - was recently interviewed by Total Prestige Magazine. Katam Hill is a registered investment advisory (RIA) based in Los Angeles, California that manages wealth for clients on a discretionary basis.
The interview is featured as the Cover Story of the Magazine's October Issue.
During the interview, a wide range of topics are discussed, including some of the following: the story behind the Firm's inception and the Founder's extensive background, Katam Hill's differentiated strategy and research focus, how the global strategy employed can benefit clients in today's environment, and why philanthropy should be important to every founder.
"I enjoyed the conversation with Total Prestige," said Adam Gold. "Reflecting upon my investment management experiences, I shared how they collectively influence Katam Hill's focus and shape the strategy that is best for clients; and why I am so excited for the future."
The full interview can be found online at: https://www.totalprestigemagazine.com/investing-in-a-brighter-future-adam-gold-founder-cio-of-katam-hill/. "Inside Katam Hill" is also featured atop the firm's http://www.katamhill.com/contact-us, and a copy is attached to this release or found directly at: https://katamhill.com/s/Adam-Gold-TP-Cover-Story-Oct-2020.pdf.
About Katam Hill
Katam Hill LLC is a registered investment advisor (RIA) based in Los Angeles, California that manages wealth for clients on a discretionary basis. The Firm's differentiated strategy focuses on global growth investment and utilizes leverage and short-selling in an effort to capitalize on long-term and short-term secular, cyclical, and structural changes that create mispriced opportunities.
Disclaimer
*Please note: Any reference to or use of the terms "registered investment adviser" or "registered," does not imply that Katam Hill LLC or any person associated with Katam Hill LLC has achieved a certain level of skill or training. Past performance is no guarantee of future results. It should not be assumed that recommendations made by Katam Hill in the future will be profitable or will equal past performance.
Additional information, including Form ADV, Parts 2A and 2B, and Privacy Notice are available on the SEC's website at http://www.adviserinfo.sec.gov by searching for our firm.
Inquiries
For inquiries, please contact: Adam Gold | adam@katamhill.com | Tel: +1.747.247.2567