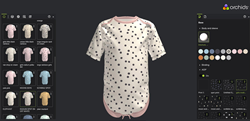 Norlanka has demonstrated the effectiveness of tools that enable stakeholders to make the most of 3D in digital product creation, setting an example for other companies to follow. — Yoram Burg, Embodee VP of sales
SAN JUAN, Puerto Rico (PRWEB) January 05, 2022
A new case study shows how companies can transform their fashion design process to 3D and achieve greater volume and speed. Norlanka and Embodee jointly published the study today. Based in Sri Lanka, Norlanka designs, makes, and sells apparel to brands and retailers globally. Embodee, headquartered in San Juan, is a technology pioneer in the 3D visualization of fashion.
The case study chronologically examines Norlanka's 3D transition, which began in 2018, not as disruptive upheaval but steady experimentation and integration. Initial steps: hiring a small team of technology experts to create 3D apparel models from which to develop product designs and virtual samples.
Company officials foresaw that using virtual samples for product refinement and merchandising sales could drastically reduce the time and cost of using physical samples. Buyers showed interest but balked at first. Their hesitancy ended abruptly in early 2020 with the arrival of the pandemic's travel bans and lockdowns.
With no one in the industry getting physical samples, Norlanka was able to digitally send entire product ranges as 3D renderings. Sales increased. The company saw more opportunities but encountered a capacity problem with their 3D experts. The study explains how Norlanka overcame the problem and other obstacles by using Embodee's Orchids web platform.
The platform helps companies leverage 3D investments and gives them a new way to collaborate and communicate in creating apparel products. 3D designs are stored, shared, revised, and ultimately approved on the platform for digital and physical use — all online. Communication features, such as commenting on designs and sharing them via links, enable robust collaboration with anyone anywhere.
Norlanka started using Orchids last April as part of a pilot program to test whether it could enable staff other than its 3D technology experts to easily apply different colors, materials, graphics, and prints to 3D models.
Two designers with little training created 250 3D product options for virtual presentation to a potential buyer. Using the old process without the Orchids platform would have taken them ten days. Thanks to the platform's ease of use, they finished in two days.
Norlanka is using some of the collaboration and communication features in the Orchids platform, scheduled for public release in 2022, and plans to explore more.
Norlanka's Malik Jeffrey, general manager of technical services and research and development, said: "What Embodee is offering is going to just take things to another level completely."
Embodee's Yoram Burg, vice president of sales, added: "Norlanka has demonstrated the effectiveness of tools that enable stakeholders to make the most of 3D in digital product creation, setting an example for other companies to follow."
About Norlanka
Founded in 2010, Norlanka creates and manufactures a range of high-quality apparel products across adult and kidswear categories. With a factory of its own and working with 40 virtual manufacturers in Sri Lanka, Norlanka sells to most of the major retailers in the United Kingdom, as well as others in Europe, the United States, and Latin America. Headquartered near Colombo, Sri Lanka, the company is part of PDS Multinational.
About Embodee
Founded in 2008, Embodee helps the fashion industry develop 3D virtual products more efficiently and collaboratively to reduce costs and increase sales for both online and physical stores. Its on-demand renderings of 3D products are unsurpassed in visual quality and interactivity. The company is headquartered in San Juan, Puerto Rico, and has employees across the United States and Europe.