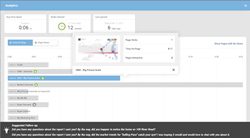 "There's a bunch to talk about when it comes to the heavily data-driven CORE Present, and part of what makes it so good is that despite everything it offers, it never feels overwhelming."
SALT LAKE CITY (PRWEB) September 22, 2021
Inside Real Estate, one of the fastest-growing independently owned real estate software companies and a trusted technology partner to over 250,000 top agents, teams, and brokerages, announced new enhancements to their powerful CORE Present solution. Built into the company's flagship platform, kvCORE, CORE Present provides a single, intuitive tool that lets agents and teams create an engaging CMA in under a minute or build a fully branded, customized presentation that helps them win more listings, win competitive offers, and wow their clients.
The latest enhancements impressed Inman News enough to award CORE Present their elusive, perfect 5-star rating. "Essentially, what CORE Present has done here is turn a presentation tool into a unique, data-enriched coaching tool that transcends the software's own category," says Craig C. Rowe, Staff Writer for Inman News. "It lets you adjust your argument according to the individual, unequivocally proving the product's mission to 'differentiate the client, not the agent.' Do that, and you'll likely win every time."
Launched in Spring 2021, CORE Present continues to innovate. The newest CORE Present features include dynamic consumer analytics and data visualization that help agents understand and respond to their clients more effectively. CORE Present uses an engagement heat map and time tracking to help agents see exactly what matters most to potential clients. Agents are notified when a client has viewed their presentation and then provided actionable insights showing which pages the client spent the most time on, and what information they clicked on and engaged with. CORE Present then leverages AI to prompt guided follow-up and scripted talking points to help the agent seal the deal. These rich client engagement insights appear in a straightforward visual report that agents don't have to decode, guaranteeing they have the correct information to utilize for success.
While many CMA and presentation solutions can be difficult and time-consuming for agents to use, CORE Present takes "user-friendly" to a whole new level. "There's a bunch to talk about when it comes to the heavily data-driven CORE Present, and part of what makes it so good is that despite everything it offers, it never feels overwhelming," says Rowe. Agents can hop into CORE Present and have a completely customized, data-packed CMA and presentation in minutes.
The newly enhanced broker analytics bolster coaching and training by enabling brokers and admins to identify where agents are struggling and help them overcome client objections. The tool identifies how many presentations an agent or team has created, what hurdles they're facing, suggested feedback for next steps, and a breakdown of seller and buyer barriers, for example, whether a client is hoping to list for more or if the client is hung up on time it will take to sell. "The extent of metrics available for brokers and team leads is impressive, allowing for intense clarity into what's earning new listing agreements or why some agents can't seem to get over the hump," says Rowe.
"Agents are always developing a story that wins clients over, and that means everyone needs to know what perspective the buyer or seller is coming from to ensure presentations are catered for them," says Karen Abram, VP of Product at Inside Real Estate. "We designed CORE Present to give brokerages & teams intense clarity into what is earning their agents new business. With this level of insight, leadership can measure critical agent and team successes and failures across the entire brokerage and learn from them."
CORE Present now also provides a single-page summary, a valuable and quick leave-behind that can be expanded into a CMA or full presentation with a single click. Single-page summaries are a huge time-saver for agents who are door-knocking, looking for referrals, or need a quick answer to a rushed prospect.
The all-new "Buyer Tour" feature lets agents create an online or printed presentation that beautifully showcases the listings they want to show to clients and allows clients to organize feedback as they go through a live tour.
CORE Present is available exclusively to kvCORE Platform customers. To learn more, visit insiderealestate.com.
About Inside Real Estate
Inside Real Estate is a fast-growing, independently owned real estate software firm that serves as a trusted technology partner to over 250,000 top brokerages, agents, and teams. It was ranked the No. 1 Real Estate Tech Company in G2's Top 100 Software Awards, based solely on verified user reviews. Their flagship product, kvCORE Platform, is the most modern and comprehensive solution in the industry. kvCORE is known for delivering profitable growth at every level of a brokerage organization and. Built on a modern, scalable, and flexible architecture, kvCORE enables every brokerage to create their unique technology ecosystem through custom branding, robust integrations, and high-quality add-on solutions. With an accomplished leadership team and over 225 employees, Inside Real Estate brings the resources, scale, and vision to deliver ongoing innovation and success to their growing customer base. Learn more at insiderealestate.com.