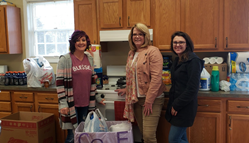 GEORGETOWN, Del. (PRWEB) February 20, 2020
The employees at Insight Homes pull together to help local homeless shelters with supplies. Code Purple Sussex County Empowered by Love INC of Mid-Delmarva, provides emergency nighttime shelter for our homeless neighbors during the winter months at eight locations within Sussex County, DE.
Sales Manager, Zachary Jahnigen had recently volunteered at the Georgetown, De location and came back with a challenge for all our employees to help. We set up a sign up site with a mission to collect as many items on the list of "Donation items needed" posted on the Code Purple website http://www.codepurplesussexcounty.com.
"In less than two weeks we had nearly the complete list filled, we loaded up several vehicles and headed to Georgetown to meet with Executive Director, Nikki Gonzalez," said Marketing Manager Debbi Brunner.
Along with donation items, Code Purple Sussex County is also in need of Volunteers. There are volunteer opportunities at all of the 8 sites within Sussex County, DE. In order for the shelters to remain open each night, there needs to be a volunteer on site, please check out the website at http://www.codepurplesussexcounty.com to see how you can help.