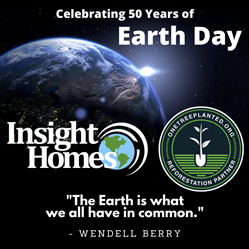 BRIDGEVILLE, Del. (PRWEB) April 22, 2020
April 22, 2020 marks the 50th Anniversary of Earth Day. Insight Homes has partnered with One Tree Planted to plant 200 trees for each home that is sold from April 22nd until May 1st. Insight Homes has always been a leader in the area for their "Green Homes" and has won Innovation Awards back to back from The Department of Energy, so it is natural that we would want to give back for this prestigious anniversary.
One Tree Planted is a 501 charity with a mission to help global reforestation efforts. The organization is built on a network of individuals, businesses, and schools who either donate monetarily or volunteer to help plant trees around the world. Trees help clean the air we breathe, filter the water we drink, and provide habitat to over 80% of the world's terrestrial biodiversity. Forests provide jobs to over 1.6 billion people, absorb harmful carbon from the atmosphere, and are key ingredients in 25% of all medicines. To find out more about One Tree Planted and how you can make a difference visit https://onetreeplanted.org.