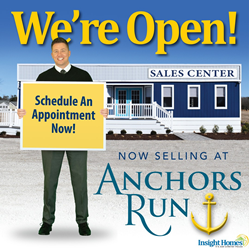 LEWES, Del. (PRWEB) March 14, 2021
Insight Homes is excited to announce the Grand Opening of Anchors Run community in Lewes, DE. Anchors Run will be a sidewalk and street lamp community boasting several ponds with fountains, lawn maintenance, and a future clubhouse and pool. The Clubhouse and pool are inspired by the award winning design used in our Hawthorne community.
Kyle Short will be the Community Sales Manager for Anchors Run and is coming from the Hawthorne community which was recently awarded Delaware Community of the Year and Sussex County Community of the Year.
Anchors Run is located at 19835 Beaver Dam Road, Lewes, DE 19958, which is only 7 miles in either direction between Lewes Beach and Rehoboth Beach. Which also positions the community in the Award Winning Cape Henlopen School District.
With several exciting new projects on the horizon, Insight Homes urges consumers to keep checking their website http://www.itsjustabetterhouse.com to stay up to date.