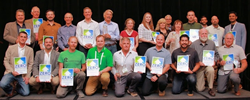 Insight Homes Vice President of Operations Kevin Brozyna said. "We're proud of our team's efforts over the last year to achieve this award and are excited to continue setting the benchmark for high-performance homes in our market and across the country."
BRIDGEVILLE, Del. (PRWEB) November 13, 2019
Insight Homes received a 2019 Housing Innovation Award from the Department of Energy for Innovation in Production Homes. The award ceremony was held at the EEBA High Performance Home Summit in Denver. This is Insight's second straight award in the production homes category.
The award is part of the DOE Zero Energy Ready Home program which recognizes home builders for their leadership in increasing energy efficiency and improving indoor air quality. National experts from across the building industry review all applications and judge them based on a number of categories from energy performance metrics, land development, design, quality construction, sales and marketing, consumer education and business metrics.
Twenty-seven homes from 15 states won awards this year.
"As a back to back recipient of this award, I can think of no better way to illustrate our team's continued commitment to building exceptionally engineered homes," Insight Homes President Rob Elliott said.
Insight earned the award for The Morgan floor plan, which has three bedrooms, 3 1/2 bathrooms and measures 2,821 square feet. It was completed in April 2019 It has a HERS Index rating of 53. That equates to 20 MMBtu and $2,450 of savings annually compared to typical new homes. The home is National Green Build Standard gold-level certified.
The quality starts at foundation in this home, which includes unvented crawlspace, poured concrete walls, liquid-applied water-proofing and a 10-mil vapor barrier. All lighting in the home is 100-percent LED and appliances are ENERGY Star. Fixtures and toilets are WaterSense-labeled and the thermostat is Wi-Fi enabled.
"With a focus beyond simply energy-efficiency, the ZERH Program takes a whole-house approach to ensure the homes being delivered are also comfortable, healthy, durable, and third-party verified," Insight Homes Vice President of Operations Kevin Brozyna said. "We're proud of our team's efforts over the last year to achieve this award and are excited to continue setting the benchmark for high-performance homes in our market and across the country."
About Insight Homes: As a committed DOE partner who provides certified Zero Energy Ready Homes, Delaware-based Insight Homes is in the top one percent of builders in the country meeting the extraordinary levels of excellence in energy and performance. Insight Homes can also build on your lot.