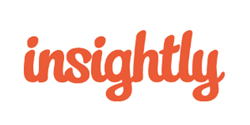 Customer expectations are at an all-time high, and how you interact with your customers can make or break your relationships - arguably, even more so with the emergence of new challenges.
SAN FRANSISCO (PRWEB) January 10, 2023
Today, Insightly, a modern, scalable customer relationship management (CRM) platform, is sharing predictions for what will be the most important way to elevate the customer experience in 2023. According to a recent Insightly survey of 500 B2B professionals, more than half (55 percent) cited improving their customer experience as a top strategic priority for the year ahead. Customer expectations will be higher than ever as the landscape widens to include the smaller "underdog" disruptors that will come out on top against larger corporations.
"Although the world started to feel somewhat 'normal' again in 2022, the business landscape has forever changed in the past few years," said Anthony Smith, CEO of Insightly. "Customer expectations are at an all-time high, and how you interact with your customers can make or break your relationships - arguably, even more so with the emergence of new challenges. With the current business climate, 2023 will be the year when customer experience truly separates fast-growing companies from the rest of the pack."
To kick off the new year, Insightly is sharing its top six predictions for customer experience trends we can expect to see:

1. Underdogs will Prevail: If 2022 taught us one thing, it's that big tech is far from infallible. Some of the biggest tech companies faltered last year, leaving room for up-and-comers in the space to acquire new talent, deliver alternative offerings to the market, and, ultimately, challenge the status quo. In 2023, disruptors will be poised to thrive to fill the gaps that the behemoths are leaving behind. Be on the lookout for emerging growth companies that offer a new way to tackle business issues, but also be aware that if you're not careful, your once-loyal customers could also consider displacing you with them.
2. Tighter Budgets and More Scrutiny: While economists say we're not in a full-fledged recession, the economy remains a bit precarious, and budgets continue to tighten across the board. Expect your customers to keep a closer-than-usual eye on their budgets this year - the days of paying for extra features that may or may not be needed are gone. This means that businesses will need to provide solutions that are both more efficient and cost-effective.
3. Give the Buyer What they Want - Personalization: Whether you are interacting with a prospective or existing customer, in 2023, it will be critical to treat everyone as individuals and make sure personalization is a priority. Companies must understand each customer's pain points, ensure timely responses, and provide instant access to experts throughout the customer journey.
4. Post-Sale is Just the Start: While it used to be the customer relationship ended once the sale did, things have shifted in recent years as subscription-model businesses have dominated the tech space. This means that what companies choose to do post-sale will be equally important in 2023 to build loyalty. Get to know each and every customer - it's their birthday? Send a discount code. Did they buy something that has an add-on that would enhance the product? Let them know.
5. You'll Need to Pay Attention to AI: If you've been dodging this topic, 2023 will be the year that ends. The release of GPT-4 will change the game in that it will be multi-modal. Investments in AI companies will continue to break records, and AI will start to overtly influence business and everyday life.
6. Seamless Alignment Will Be King: If we've said it once, we've said it 100 times: to give your customers the best possible experience, you must be aligned internally. Your customers will expect your brand to be fully aware of every interaction they've had with your brand - both good and bad. When a customer speaks with someone on your sales team, they will expect that your rep is aware of the conversation with a support agent last week to fix an issue and vice versa. In 2023, this will be table stakes, and it's time to make sure you're up to snuff.
Insightly's platform saw steady, high-level growth across the board in 2022, with a 63 percent YoY growth in customers adopting multiple products across CRM, Marketing, Service, and AppConnect products in our unified platform.
For more information on Insightly and its offerings for 2023, visit http://www.insightly.com.
About Insightly
Insightly CRM is a modern and affordable CRM that teams love. It offers a complete feature set, ease of customization, simple integrations, and low total cost of ownership to help drive fast-growing businesses forward. Powerful in any vertical, Insightly CRM can be complemented by companion products for marketing and customer service in the same platform. Insightly is trusted by more than a million users worldwide. For more information, visit https://www.insightly.com.