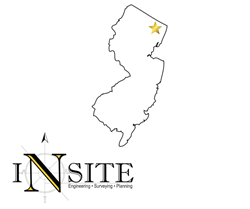 We are very excited to open an office in northern New Jersey to further enhance our ability to serve our significant client base in that area.
WALL, N.J. (PRWEB) January 31, 2023
InSite Engineering, LLC, a New Jersey land development and consulting engineering firm based in Wall Township, NJ, has opened a Bergen County office in Allendale, NJ. The office address is 165 Chestnut Street, Suite 200, Allendale, NJ 07401.
InSite's already vast project portfolio in the northern New Jersey area made it an easy decision to move into the heart of Bergen County and provide the opportunity to better serve their clients' needs while expanding their regional footprint.
Andrew J. Grover, PE, LEED AP, has joined the firm and new office as an Associate, bringing 22 years' experience managing and designing all types of land development projects throughout the State of New Jersey. Prior to working for InSite, Mr. Grover was an in-house engineer for one of the nation's leading home builders. He has been involved in all phases of projects from due diligence, acquisition, design, permitting, construction, and closeout.
Jason Fichter, Co-Founder and Managing Member of the firm stated, "We are very excited to open an office in northern New Jersey to further enhance our ability to serve our significant client base in that area. This is a milestone accomplishment that enables us to advance to the next phase of growth in our strategic plan. We are very grateful to our clients and associates for their loyalty and collaborative spirit, which enabled us to reach this milestone. Andrew Grover's professionalism and extensive experience as a land development consulting engineer is a perfect fit for InSite, and we are thrilled for him to join us in Bergen County. We look forward to working with the local community and contributing to its ongoing livelihood."
About InSite Engineering, LLC
Established in 2003, InSite Engineering, LLC, is a privately owned engineering firm offering comprehensive land development consulting services for corporate, private, and government clients in the residential, commercial, industrial, public, and institutional markets. InSite Engineering, LLC, is licensed throughout the Northeast and is headquartered in coastal New Jersey. For more information about InSite Engineering, LLC, please visit http://www.InSiteEng.net