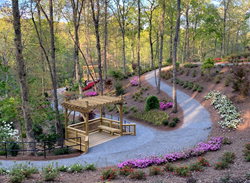 I like to design and install plant collections as a way to inspire and educate future generations. Jim Gibbs
BALL GROUND, Ga. (PRWEB) April 23, 2021
The Inspiration Garden—Gibbs Gardens' distinctive new, four-season garden—will open Part 1 to the public on April 13.
This garden—the result of violent destruction tamed by unwavering vision—is an amazing gardening achievement.
When remnants of Hurricane Irma wiped out a vast hillside in his beloved Gibbs Gardens in 2017, owner/developer Jim Gibbs didn't hesitate. With a lemons-to-lemonade mindset, he set to work developing a one-of-a-kind, dream garden to inspire, inform and introduce home gardeners to new options for their own yards.
After almost four years of clearing, planting and building, Phase 1 of the Inspiration Garden will open April 13. Spanning 150-feet of elevation from the Valley Gardens to the Manor House, the new four-season garden features easily walkable pathways that wind though acres of unique dwarf and rare plant collections, huge boulders/stone work and vibrant flowering favorites—along with some new surprises.
Plant collections include:

Dwarf Conifer Collection "hundreds, more than you can count," says Gibbs in over 200 varieties
Encore Azalea Collection with more than 1500 azaleas in all 33 Varieties.
Native Azalea Collection, more than 1000 representing 100 plus varieties.
Dwarf Japanese Dissectum Maple Collection with more than 100 new rare varieties.
Japanese Maples Collection, Acer palmatum and Acer japonicum, 100+ Varieties.
Dwarf Rose Collection – Drift Series Knockout Rose Collection, the complete series.
Features for home gardens
Dwarf sizes work well for landscaping homes, Gibbs said. "In addition to having plants on a scale that doesn't overpower the home landscape, conifers are evergreen, creating a four-season garden. They provide beautiful blue-gray, green and chartreuse color, even in winter when everything else is bleak and trees have dropped their leaves."
Conifer plants featured in the Inspiration Garden are low maintenance. Garden spaces are designed to show how mixed groups of plantings work together based on sun, shade and part shade light requirements.
"I like to design and install plant collections as a way to inspire and educate future generations," said Jim Gibbs. Currently Gibbs Gardens has 16 gardens featuring plant collections with five more planned for 2021 and beyond. As the founder of Gibbs Landscape Company, he has more than 50 years of experience working with home owners to solve their gardening problems. Jim Gibbs and his company has received more than 300 hundred regional and national awards for their landscaping and horticulture achievements. The Inspiration Garden demonstrates innovative ways to solve water drainage, hilly topography and shade issues.
Gibbs Gardens was recently named one of the top 13 botanical gardens in the U.S.
For information on Gibbs Gardens Inspiration Gardens and other details, go to https://www.gibbsgardens.com or http://www.facebook.com/gibbsgardens
Gibbs Gardens is located at 1987 Gibbs Drive, Ball Ground, Ga. 30107.
For more information call 770-893-1880 or go to info@gibbsbardens.com
High res images available upon request.