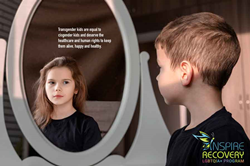 "Withholding access to the needed gender-affirming treatment can impact the overall health of trans folks. Taking transgender and queer people's rights away to medically interventions that are vital can lead to deadly mental health issues including drug and alcohol addiction."
WEST PALM BEACH, Fla. (PRWEB) April 27, 2021
Last week Alabama Governor signed an anti-transgender bill that would ban transgender youth from playing in school sports consistent with their gender identity. Prior to this, the Florida House of Representatives passed a bill that would ban young trans kids from playing in schools' sports teams that align with their true gender. The bill will also allow schools to require 'proof' of an underaged student's biological sex through 'genital checks.'
In response to the recent bill, a representative of Florida-based LGBTQ rehab, Inspire Recovery, states:
"This is just one of the many anti-trans legislation that is only going to harm young and vulnerable trans kids. Allowing schools to ban young athletes from competing in a sport they love and perform 'medical checks' when their gender is questioned will cause harmful and damaging effects (trauma) on children both now and in the future. The transgender community already endures serious trauma and is at risk of drug and alcohol addiction due to the overwhelming trauma including rejection, discrimination, violent crimes, along with everyday trauma's that society puts on trans people . Anti-trans legislations like this will only make things worse."
Earlier this month, Arkansas became the first state to ban gender-affirming care for transgender youth. The legislation will prohibit physicians from providing hormone therapy and puberty blockers to young people under the age of 18. The ban will also apply to people who have already begun and are in the middle of their gender-affirmation treatment.
Donna Weinberger, CEO of Inspire Recovery states:
"Many of our trans clients are lucky to still be alive despite the oppression and violence they face many times each day. Every day we are grateful to see our trans clients thriving and working towards their long-term recovery goals. Withholding access to the needed gender-affirming treatment can impact the overall health of trans folks. Taking transgender and queer people's rights away to medically interventions that are vital can lead to deadly mental health issues including drug and alcohol addiction."
Federally funded research has shown that members of the trans community have higher rates of substance use disorders and addictions than people who identify as heterosexual and cisgender. Within the LGBT community, transgender youths are more likely to have higher levels of depression, thoughts of suicide, self-harm and other co-occurring psychological illnesses. As a result, many trans youth and adults are also more susceptible to developing an addiction.
Inspire Recovery, aims to offer a safe and affirming space for trans and queer addicts and alcoholics. The LGBT rehab specializes in recovery programs are designed to cater to unique experiences and trauma related to recovering LGBTQIA folks. Staff members and therapists are trained to accommodate and affirm clients' gender identity, expression, and sexual orientation, and create a safe space for recovery despite the upsetting and devastating events that may occur outside of treatment.
Sources
https://substanceabusepolicy.biomedcentral.com/articles/10.1186/s13011-015-0015-4
https://www.drugabuse.gov/drug-topics/substance-use-suds-in-lgbtq-populations
https://www.scientificamerican.com/article/new-arkansas-law-and-similar-bills-endanger-transgender-youth-research-shows/
https://www.healthline.com/health-news/why-arkansas-anti-trans-law-is-so-dangerous-for-lgbtqia-youth#Fighting-for-a-better-future
https://nowthisnews.com/news/florida-anti-trans-bill-could-require-genital-inspections-of-students
https://www.out.com/politics/2021/4/16/florida-lawmakers-pass-bill-legalizes-teen-genital-inspections