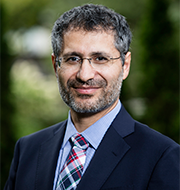 Inspired Spine's minimally invasive spine procedures are backed up by extensive research. Four of those studies were presented at the meeting in Turkey!
Istanbul, Turkey (PRWEB) September 06, 2017
Inspired Spine presented research on four groundbreaking studies in Istanbul, Turkey at the World Congress of Neurosurgery Meeting. The meeting included accomplished neurosurgeons from all over the world, with Dr. Hamid Abbasi representing Inspired Spine on four studies.
The four research studies looked at various innovative minimally invasive spine surgery techniques compared to existing procedures. One included the Oblique Lateral Lumbar Interbody Fusion, known as the OLLIF. The paper was titled "Oblique Lateral Lumbar Interbody Fusion (OLLIF): A Comparative Study of Perioperative and Clinical Outcomes." For the study, 69 OLLIF procedures were compared with traditional fusion surgery, and showed a 50% reduction in surgery time and an 80% reduction in blood loss.
Another presentation evaluated the OLLIF cost savings to a hospital system titled: "Economic Performance of Oblique Lateral Lumbar Interbody Fusion (OLLIF) with a Focus on Hospital Throughput Efficiency". Due to the time reduction seen with each procedure, the hospital system saved over $6000 per procedure and reduced length of stay by over one and a half days. Amazingly, the minimally invasive OLLIF procedure was performed in cases involving up to four spinal levels.
The remaining presentations involved a similar minimally invasive technique developed by Inspired Spine with Dr. Hamid Abbasi as well. One was titled, "Minimally Invasive Direct Lateral Interbody Fusion (MIS-DLIF): Proof of Concept and Perioperative Results", with the fourth one looking at the thoracic version of the procedure (MIS-TLIF). Each of the studies laid out the developed technique for the minimally invasive procedures. The thoracic version does not need a thoracotomy and the initial study showed excellent outcomes with no significant complications.
For the lumbar procedure (MIS-DLIF), the procedure involved biplanar fluoroscopy providing indirect visualization. The pilot study evaluated the procedure in nine patients, with half being discharged on the same day. Pain scales were reduced by 50% in all patients at three months after the procedures.
About Inspired Spine:
Minnesota-based Inspired Spine is a total spine care provider dedicated to improving treatment value and outcomes by applying the least invasive solution to any back-pain problem. The company is building a network of comprehensive care centers that offer conservative care, such as physical therapy and pain management, as well as groundbreaking minimally invasive outpatient surgeries that reduce costs and speed recovery for patients. For more information, visit http://inspiredspine.com/ and follow Inspired Spine on Twitter @InspiredSpine.