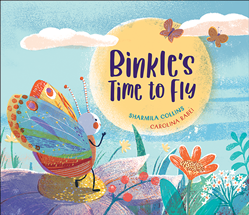 LOUISVILLE, Ky. (PRWEB) February 04, 2020
Binkle's Time to Fly, a new picture book about how to approach challenges, is now available.
Ideal for children ages 3-7, the picture book tells the story of a butterfly named Binkle who is born with damaged wings. Though heartbroken at first, Binkle learns that there is more than one way to fly. This charming story reminds readers that although life can present us with unwelcome challenges, inventive alternatives and the support of others can make all the difference.
Binkle's Time to Fly offers a unique twist on the familiar theme of overcoming adversity through friendship and cooperation. It also includes playful, eye-catching artwork by Carolina Rabei that showcases various animals and insects, including butterflies, silkworms, bees, spiders, and birds.
Binkle's Time to Fly is now available for purchase wherever books are sold.
About Sharmila Collins
Sharmila Collins was inspired to write this story by the bravery of her daughter and other children who face ongoing medical challenges. She is the founder of Cure EB, a charity dedicated to researching her daughter's rare skin disease. Originally from Sri Lanka, she lives in the United Kingdom. For more information, visit http://www.cure-eb.org.
About Carolina Rabei
Carolina Rabei graduated with distinction from the Cambridge School of Art and has been honored with a Kate Greenaway Medal nomination. Her unique style employs traditional and digital techniques. She began her artistic pursuits in her home country of Moldova and now lives in the United Kingdom. For more information, visit http://www.carolinarabei.com.
About Flyaway Books
Flyaway Books is a picture book program dedicated to themes of diversity, inclusivity, compassion, and kindness. Visit http://www.flyawaybooks.com for more information.