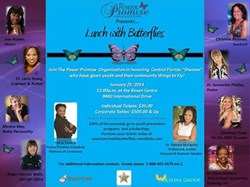 Dr. McCauley Bush tells her story in a way that inspires others to dig deep within to find the strength to move forward despite adversity.
Orlando, FL (PRWEB) January 21, 2014
Dedicated to empowering youth and communities through prevention programs in the Central Florida community, The Power Promise Organization will host their Annual "Lunch with Butterflies" at the Rosen Center Hotel on Jan. 25th. Ten outstanding women will be presented with the 2014 Bountiful Butterfly Award in recognition of their community service. UCF Professor, acclaimed author and popular speaker, Dr. Pamela McCauley Bush, is the keynote speaker and one of the honorees.
Tekoa Pouerie, president of the Power Promise Organization said, "The butterfly was chosen as a symbol of recognition because all of these women have given young people and their communities "Wings to Fly" so that they can accomplish their goals and set out to be leaders in their community."
Honorees will include Dr. Pamela McCauley Bush; Ms. Monica May; Pastor Inez Nobles; Dr. Samantha Phillips; Ms. Christina Redman; Mrs. Courtney Shaw; Dr. Clara Walters; and Major Patricia Wells and Dr. Lesia Crumpton-Young.
Admission to the event is $35 and the public is invited to attend. Tickets can be purchased at http://www.lunchwithbutterflies.eventbrite.com. All proceeds from this event will go toward prevention programs and scholarships.
Professor Bush will be the opening speaker for the Central Florida Chapter of the National Black MBA Association Inc. January 25th meeting. Comprised of African American and minority business professionals from across the world, the Association is a business force boasting U.S. and international members and corporate partners. The Association has awarded over $5 million dollars in scholarships to minority students participating in both undergraduate and graduate programs around the world. Today, the membership is over 30,000 and the Association has expanded its outreach to include 47 chapters and 27 collegiate chapters.
Professor Bush will be signing copies of her book, Winners Don't Quit . . .Today They Call Me Doctor, which she will draw from in her speech to the CFLNBMBAA on leading with purpose and passion. The event starts at 10:00 a.m. For details, please contact info(at)nbmbaa(dot)org.
More information on Professor Pamela McCauley Bush can be found on http://www.pamelamccauleybush.com or by contacting Liza Lee email lizalee(at)transformingyourstemcareer(dot)com. Video of Dr. Bush speaking to high school students on academic success, shutting out negative influences and the steps needed to graduate can be found here: http://www.youtube.com/watch?feature=player_embedded&v=8_2iPjqpfs0.