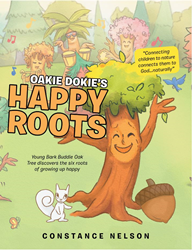 Children are born with an innate sense of wonder for nature… my goal is to tap into that sense of wonder during the most impressionable season of a child's life and harvest the natural born energetic wonder to educate, engage, enlighten and entertain. - Author Constance Nelson
CHARLESTON, W.Va. (PRWEB) April 06, 2021
COVID-19 restrictions have shown families firsthand the negative psychological and physical impact of limited outdoor time for children. Shining a light on the importance of a child's relationship to nature in regard to their mental and physical development, the new children's book "Oakie Dokie's Happy Roots" by Christian author, nature educator and former global radio talk show host, Constance Nelson, is supplying young readers with a heartfelt story filled with lessons in respectful traits, reminders of the beauty of nature and moments of prayer. Nelson's mission is to help today's children feel healthier, happier and much more balanced in life with a return to the new "FUN-tier", the great outdoors. The "Grow Up Happy" theme will be woven through her series of interactive children's books.
Geared towards readers four years old and up, the story begins with an introduction to Oakie Dokie, one of the young Bark Buddie Tree® sprouts, at his home in the Secret Valley where he lives with his family of "trunk yappin', root tappin', leaf clappin', getting-twiggy-with-it trees" on a mission to "Root-4-Kids". After noticing that Oakie wasn't taking turns with others, Big Bark Buddie, a guardian tree, introduces him to the six roots of character education: trustworthiness, respect, responsibility, care, fairness and citizenship. Their conversation awakens Oakie's realization that friendship, faith and goodness will take him far as they end the story with some happy root skootin' to their favorite musical tunes.
Nelson is committed to expanding upon the Bark Buddie Tree® characters with additional books, workshops, outdoor educational programs and upcoming stage shows with the "Bark Buddie Band of Trees", a four-season band performing interactive musical "root-ines". Nelson believes that when outdoors, children learn the value of stewardship, experience a boost in self-esteem, immunity, an enhancement of problem-solving skills, and strengthened mental/physical muscle. Her rural upbringing and playing outdoors in the hills and creeks along with her father's love of nature and God, gave her the strong roots to turn her creative talents and energy into this inspiring brand.
"Children are born with an innate sense of wonder for nature… my goal is to tap into that sense of wonder during the most impressionable season of a child's life and harvest the natural born energetic wonder to educate, engage, enlighten and entertain," says Nelson.
By partnering with local, regional and national corporations, school systems and governments, Nelson's mission is growing more awareness about the need for children to balance their time between being indoors plugged into screens, devices and the greatest teacher of all, nature. "Oakie Dokie's Happy Roots" is getting kids motivated to kick up their "roots" and explore all nature has for them in the new "Fun-tier"!
"OAKIE DOKIE'S HAPPY ROOTS: Young Bark Buddie Oak Tree Discovers the Six Roots of Growing Up Happy"
By Constance Nelson
ISBN: 9781973684312 (softcover); 9781664217843 (hardcover); 9781973684329 (electronic)
Available at the Westbow Press Online Bookstore, Amazon and Barnes & Noble
About the author
Constance Nelson is a Christian and former global radio talk show host and member of the Worldwide Branding Hall of Fame. She is a nature educator, pianist, interior designer and creator of the "Nature-Child Reunion" movement and founder of "Planting Tomorrows", her former global radio talk show. She is the creator of the Bark Buddie Trees®, who have appeared all over the country in parades, events and in school programs in partnership with Walmart, along with other nature rooted children's educational media. The characters are available in her debut children's book, "OAKIE DOKIE'S HAPPY ROOTS." Her goal is to launch a series of nature-child reunion books to help guide kids to the new "FUN-tier", the great outdoors. She has created and developed outdoor education programs and workshops for organizations such as the Boy Scouts of America, McDonalds, numerous school, retail and cultural events. Nelson can be reached for "FUN-TIER Playday" workshops, tree planting events and for outdoor educational consulting projects. To learn more, please visit http://www.nature-childreunion.com Ms. Nelson can be contacted through her website or Lavidge for book signings, media appearances, "Grow Up Happy" Bark Buddie Tree® plantings, workshops and speaking engagements relative to her "Nature-Child Reunion" mission.
For Review Copies & Interview Requests:
LAVIDGE – Phoenix
Lauren Dickerson
480-306-7117
ldickerson@lavidge.com