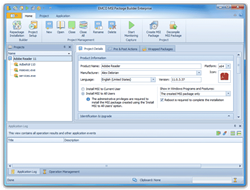 EMCO MSI Package Builder 5.1 includes a number of new features that allow network administrators to successfully repackage even large and complex installations
San Francisco, CA (PRWEB) May 31, 2014
EMCO Software, a leading vendor of installation packaging solutions for Windows, has announced the availability of a new version of its EMCO MSI Package Builder software. EMCO MSI Package Builder version 5.1 is designed to repackage non-silent installations into silent MSI packages that can be easily distributed across a local network using any of the software deployment tools.
EMCO MSI Package Builder 5.1 includes a number of new features that allow network administrators to successfully repackage even large and complex installations, such as MS Office 2013, for example. The application repackages EXE installations into MSI packages by capturing low-level changes performed by the original installation running manually and generating an MSI applying the same changes. Repackaging quality depends on the ability of the repackaging tool to capture and reproduce all the required changes. In addition to file system changes and registry changes that can be captured by many repackaging tools, EMCO MSI Package Builder 5.1 can capture and reproduce Windows assemblies and Windows permissions.
The new version of EMCO MSI Package Builder can successfully repackage installations that depend on various Windows runtime frameworks. Usually, such installations deploy .NET Framework or Visual C++ Runtime libraries required by the installed applications. EMCO MSI Package Builder can capture installation of Windows assemblies and create an MSI package reproducing the assembly deployment.
Complex installations can not only distribute installations resources and third-party components but also apply Windows permission changes required to enable correct work of the deployed installation. EMCO MSI Package Builder 5.1 can detect those changes and convert them to permission changes that can be safely applied to a system when the generated MSI package is deployed.
Other improvements introduced in the new version of EMCO MSI Package Builder are targeted at improving the repackaging results and raising the repackaging success rate. As a result, the new version of EMCO MSI Package Builder can repackage almost every Windows installation, including complex software bundles, such as Microsoft Office 2013.
"The new features introduced in EMCO MSI Package Builder 5.1 are unique on the market. Now it's possible to take almost every Windows installation of any complexity and convert it to an MSI package with just a few mouse clicks. It extends the known limits of the application packaging/repackaging technology," Thorarinn Oskarsson, CEO at EMCO Software, says.
Product Information
For detailed information on the application features, refer to the EMCO website at http://emcosoftware.com/msi-package-builder/convert-exe-to-msi. Information about the MSI creation options is available at http://emcosoftware.com/msi-package-builder/create-msi-package.
Pricing and Availability
EMCO MSI Package Builder is available in two editions: Professional and Enterprise. Both editions include changes monitoring features that can be used to convert non-silent installations into silent MSI packages. The Enterprise edition features the advanced monitoring technology, which allows repackaging installations that deploy Windows services. Any edition of the application may be evaluated for free during 30 days. The prices start at $499 per license for the Professional edition of the application. More detailed information is available at http://emcosoftware.com/msi-package-builder.
About EMCO Software
EMCO Software is a provider of integrated software solutions that help organizations to reinvent approaches to their computer networks management. EMCO Software award-winning products enable organizations to manage their IT environments remotely and automate their network administration procedures, including network inventory, software deployment, power management, and network & security control. Founded in 2001, EMCO Software is headquartered in Reykjavik, Iceland, with operations around the globe. Today, more than 20,000 organizations in 85 countries, including Fortune 100 and Fortune 500 companies, trust EMCO Software products.