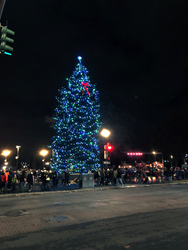 SPOKANE, Wash. (PRWEB) October 30, 2019
This Friday, November 1st, Senske Services will be decorating the 80-foot tree featured in the annual Spokane Tree Lighting Celebration. The event put on by the City of Spokane and Riverfront Park, will be held on November 30th in Riverfront Park with Senske team members on hand distributing 3-D glasses that display fun holograms within the Christmas lights.
This is the third year that Senske Services of Spokane has donated the lighting for the enormous fir tree and it is quite the undertaking. According to Timm Turnbough, Branch Manager, installing the lights requires a 125-foot lift and takes about 32-man hours. It will take another 18 hours to remove the lights at the end of this holiday season.
The Christmas tree is covered in 2,500 LED, C-9 bulbs stretching over 3,125 feet in length. The giant red bow is 10 feet tall and there are 6 large light bursts that top the tree.
Turnbough went on to say that "Senske is delighted to be part of the annual celebration." After the event, the festive tree will remain lit throughout the holiday season for all of Spokane to enjoy.
About Senske Services:
Senske Services is a leading lawn, tree and pest control service provider that is locally owned and operated, with its corporate office based in Kennewick, Washington. It has been a trusted source of lawn, tree and pest control services since 1947 across Washington, Idaho, and Utah, as well as pest control in Las Vegas, Nevada. To see what Senske can do for you, visit http://www.senske.com.