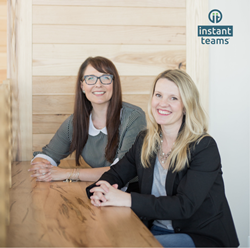 "Instant Team opens to the door to a completely new approach to outsourced solutions, helping companies better define hiring requirements and then instantly sourcing highly qualified candidates from our uniquely military-connected workforce" - Liza Rodewald, CEO, Instant Teams
LOS ANGELES (PRWEB) October 21, 2020
RemoteTech Breakthrough, a leading independent market intelligence organization that evaluates and recognizes standout technology companies, products and services empowering remote work and distributed teams around the globe, today announced that Instant Teams, a remote team assembly and workforce management platform, has been selected as the winner of the 'Overall Remote Team Hiring Platform of the Year' award in the inaugural RemoteTech Breakthrough Awards program.
Instant Teams helps companies assemble and manage remote teams on demand, connecting over 10,000 military spouses located around the world with remote work opportunities. The Company's remote workforce management platform, Arti, helps hiring managers better define talent requirements and matches pre-qualified remote workers to the project, and then simplifies the end-to-end talent onboarding and management experience to help companies build and retain flexible remote teams.
"Instant Team opens to the door to a completely new approach to outsourced solutions, helping companies better define hiring requirements and then instantly sourcing highly qualified candidates from our uniquely military-connected workforce," said Liza Rodewald, CEO, Instant Teams. "While our clients are empowered to quickly and easily onboard, manage, and retain flexible teams, our most important mission is what Instant Teams was founded to do – support military spouses who are the backbone of our military families serving around the world. This RemoteTech Breakthrough Award serves as a strong validation of the success and momentum of Instant Team's unique approach and strong operational execution."
Before the COVID-19 pandemic shut down office spaces, there were already more than 4.7 million U.S. employees working from home at least half the week. The number of employees working from home at least once per week before COVID-19 increased 400% between 2010 – 2020. As the number of employees working from home around the world grows exponentially, the RemoteTech Breakthrough Awards program aims to evaluate and recognize the top technology companies, solutions and services in a variety of categories, including messaging and communication, video conferencing, project management, events and hosting, collaboration and documentation, and sourcing and recruiting.
"Instant Teams perfectly embodies the spirit of the RemoteTech Breakthrough Awards program, not only delivering an innovative technology platform for building and managing a global remote workforce, but the Company addresses the remote work industry with a unique approach in utilizing highly skilled active-duty military spouses," said Bryan Vaughn, Managing Director of RemoteTech Breakthrough Awards. "Instant Team's mission to support military spouses serving around the world with simplified onboarding and remote team management is a true "breakthrough" that we are thrilled to recognize in the 2020 RemoteTech Breakthrough Awards program. We extend our sincere congratulations to Instant Teams for their well-deserved success and industry recognition."
Founded in 2014, Tech Breakthrough creates market intelligence and industry recognition programs for companies ranging from Fortune 500 to early-stage startups in today's most competitive technology sectors. The company's expertise includes Internet-of-Things, Artificial Intelligence, CyberSecurity, Mobile & Wireless, Educational Technology, Financial Services and Technology, Digital Health & Medical Technology, Automotive & Transportation Technology, and Data Technology.
###
About RemoteTech Breakthrough
Part of Tech Breakthrough, a leading market intelligence and recognition platform for global technology innovation and leadership, the RemoteTech Breakthrough Awards program is devoted to honoring excellence in technologies, services, companies and products that empower remote work and distributed teams around the globe. The RemoteTech Breakthrough Awards program provides a forum for public recognition around the achievements of technology companies and solutions in categories including messaging & communication, project management, virtual events, team collaboration, virtual offices, collaborative design and more. For more information visit RemoteTechBreakthrough.com.
About Instant Teams
Instant Teams utilizes Arti, a proprietary remote team software, to build and manage teams of highly-skilled military spouses, a previously untapped resource. Instant Teams works with companies in diverse sectors such as cybersecurity, healthcare, and travel to efficiently source, hire, onboard, manage, and retain a strong workforce, providing flexibility and opportunity for both customers and team members.