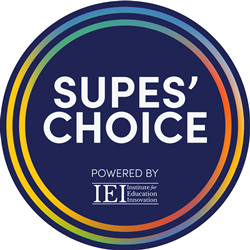 "The Supes' Choice Awards not only spotlight the edtech visionaries and innovators who are devoted to improving student outcomes, but even more importantly, relays valuable feedback from district leaders." — Doug Roberts, Founder and CEO, IEI
NEW YORK (PRWEB) June 27, 2022
The Institute for Education Innovation, a national school superintendent think tank that serves as the bridge between district leaders and the K-12 industry to develop solutions to the greatest challenges in education, has opened the call for nominations for its second annual Supes' Choice Awards. The Supes' Choice Awards provide a unique opportunity for education companies to showcase their products or solutions and secure the undivided attention of superintendents across the nation.
"The Supes' Choice Awards not only spotlight the edtech visionaries and innovators who are devoted to improving student outcomes, but even more importantly, relays valuable feedback from district leaders," said Doug Roberts, founder and CEO of the Institute for Education Innovation (IEI). "The success of our inaugural Awards in 2021 demonstrated the importance of centrally positioning superintendents in the discussion to elevate a service or solution from an effective tool to a must-have for student and teacher success."
This year's awards categories will be evaluated on a commitment to student outcomes, innovation and ingenuity, client support, interactivity and engagement:

K-12 Newcomer Award
Equity Champion
STEM/STEAM Instructional Solution
Literacy Instructional Solution
Math Instructional Solution
Critical Thinking Institutional Solution
College and Career Readiness Solution
Virtual Instructional Experience
SEL Solution of the Year
Keeping Kids Safe Award
Most Innovative PD Solution
Communications and Family Engagement
Learning Management System
Operations/Finance/HR Solution
"The Supes' Choice Awards provide an opportunity for education leaders to acknowledge companies that are making an impact in their schools," said Gregg Calvaruso, Vice President, Marketing, ClassLink. "When those you serve recognize your efforts in addressing today's challenges, it's an honor. When they take the time to share their constructive feedback and insights, it's invaluable to your mission, helping you deliver the best possible solution to your K-12 partners."
The call for submissions opens on June 26 at the ISTE Conference and Expo with a special reception. Award submissions close on October 1, and winners will be announced in December 2022.
To enter Supes' Choice Awards or learn more, visit https://instituteforedinnovation.hubspotpagebuilder.com/supes-choice-awards.
About the Institute for Education Innovation
Superintendents are defenders of our children's right to a high-quality public education, and lead their teams toward effective, sustainable solutions to age-old problems. They must be at the center of discussions around when, where, and how innovation will affect teaching and learning. Many education solution providers, funders, researchers, and thought leaders are mission-driven: they do what they do to improve student outcomes. The Institute for Education Innovation bridges gaps between the individuals and organizations committed to seeing students succeed in school and life, creating a safe space for constructive problem-solving and innovative thinking. http://www.instituteforedinnovation.com.