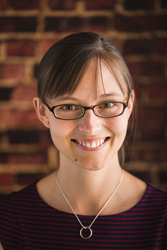 PALO ALTO, Calif. (PRWEB) November 03, 2021
On Tuesday, November 2nd, the Design Automation Conference (DAC) announced four recipients of their annual Under 40 Innovators award, recognizing Instrumental's CEO and co-founder Anna-Katrina Shedletsky among the list of honorees for their significant impact in the field of design and automation in electronics. DAC organizes the award in collaboration with its sponsors - the Association for Computing Machinery (ACM), and the Institute of Electrical and Electronics Engineers (IEEE).
The Design Automation Conference (DAC) is recognized as the premier event for the design of electronic circuits and systems and for electronic design automation (EDA) and silicon solutions. A diverse worldwide community representing more than 1,000 organizations attends each year, represented by system designers and architects, logic and circuit designers, validation engineers, CAD managers, senior managers, and executives to researchers and academicians from leading universities. Award winners will be recognized at the 58th DAC being held December 5-9, 2021, at Moscone West in San Francisco, CA.
Read the full announcement here.
About Anna-Katrina Shedletsky:
Shedletsky founded Instrumental to solve manufacturing's biggest problem: the 20 to 35 cents of every dollar spent in manufacturing that is wasted. Shedletsky holds two degrees in mechanical engineering from Stanford University and was an Apple Product Design Engineer for six years where she designed mechanical components for three iPods and led system product design for the Apple Watch Series 1. She spent over 300 days in China finding and fixing issues on one of the most admired manufacturing supply chains in the world.
As an advocate for increased diversity in technology, Shedletsky founded the Women in STEM Mentorship Program in 2013, which has matched hundreds of women university students studying in STEM fields with practicing industry mentors to support their transitions into fulfilling STEM careers.
About Instrumental:
Instrumental's Manufacturing Optimization Platform accelerates time-to-market, improves yields, eliminates rework, and saves engineering time for the world's best electronics brands, including Cisco Meraki, Bose, Axon, and others.
Instrumental's cloud-based manufacturing optimization software closes loops in the manufacturing process by collecting complete product data from key sources in the manufacturing process, intelligently transforming that data to proactively identify issues in real-time, and contextually present that data to facilitate fast, remote failure analysis and deep build analytics.
Instrumental was founded in 2015 by ex-Apple product engineers Anna-Katrina Shedletsky and Samuel Weiss. For more information about Instrumental, contact us at communications@instrumental.com