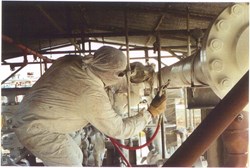 there are a myriad of reasons to use a paint that will insulate, deaden sound, act as a fire retardant, reduce condensation and save energy
Philadelphia PA (PRWEB) August 29, 2013
For commercial and industrial facility contractors and operators finding adequate options for piping and containment tank insulation and protection can be a daunting task. Condensation and the loss of heat and cold thru holding tanks and pipes represents a massive loss of energy and a huge expense.
A simple affordable thermal solution is long overdue, and this process is also highly effective for deadening sound. National Energy Technologies LLC is announcing the release of their insulative coating process to reduce sound condensation and thermal loss.
Although adequate conventional insulation options for Industrial and commercial piping already exist, it can be costly, is rarely complete and damages easily. Finding ways to reduce wall, pipe and tank condensation, as well as possibly reducing sound from pipe, wall and building systems is equally as important. There are few solutions for some of the above issues and there is now an affordable process that is a highly effective solution for each. According to Scott Milne of National Energy Technologies, "in almost every building there are a myriad of reasons to use a paint that will insulate, deaden sound, act as a fire retardant, reduce condensation and save energy".
Steam heat and Cold water chiller systems and air handlers move an enormous amount of heat and cold to vital building systems efficiently. These systems contain a maze of ducts and piping components such as valves, fittings and angles that are difficult to insulate. These un-insulated components are leaching their extreme heat and created cold temperatures into the environment or boiler rooms of buildings that they serve. Exposed pipes are a dangerous liability as steam pipes can reach temperatures of 350 degrees F. They also add to the uncomfortable conditions in these spaces and need to constantly ventilate. The loss of heat and cold thru holding tanks and pipes is an expensive loss of energy that can now be reduced.
This comprehensive process includes a premixed composite material consisting of 80% microscopic air filled ceramic and silicon beads installed by technicians certified in the process as a turnkey project. It is also ½ the weight of conventional clay based paints. It has the ability to dramatically reduce thermal loss, with two coats being equivalent to R-19 of conventional insulation. It is designed to insulate and quiet building system components that move or hold hot or cold material of any type. This coating is extremely durable, can be applied to surfaces with temperatures ranging from -80 to 350 degrees F while hot. It will also encapsulate failing insulation, asbestos and lead paint as well as protect surfaces from determination and rust decay. The coating is being used by the military to protect surfaces and ships by reducing hull sound. Hotels with sound complaints are thrilled to hear about a solution that will make hard to rent rooms quiet and peaceful. The service is being used on fuel tanks that ruin fuel due to the dripping moisture caused by condensation from rapid temperature fluctuations. This process is also highly effective on refrigeration, as a white roof, and a method to encapsulate asbestos and lead based paint. This product was first developed for NASA as an insulative lightweight coating for the space shuttle.
National Energy Technologies LLC has elevated the standard of excellence of Conservation Consulting Services by combining expertise in multiple utility reduction practices in a comprehensive yet holistic approach. We are a commercial facility conservation consultant specialist. Our firm will introduce, and consult on targeted technologies designed to maximize utility savings with the shortest ROI. Our techniques will save from 5 to 25% on electricity, cooling, water, or fuel, by correcting inefficiencies in; air conditioning, large refrigeration, lighting, laundry, compressed air, water flow and many other resource depleting activities. National Energy Technologies performs energy assessments, corporate counseling, public speaking, and can consult on demand response, deregulated energy contracts as well as ongoing energy modeling. Our technicians are efficiency specialists; and understand all aspects of large facility infrastructure. 800-984-0332