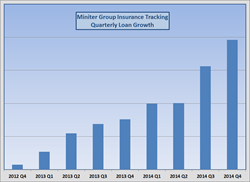 Norwell, MA (PRWEB) December 31, 2014
Miniter Group today announced that it has achieved 157% growth in its insurance tracking department during 2014 as banks and credit unions embrace their Borrower-Centric Insurance Tracking Solutions.
According to Jim Gilpin, EVP of Business Development at Miniter Group:
"We believe our proactive approach to compliance and our Borrower-Centric insurance tracking systems are the strongest factors for Miniter's successful year of growth. Our methodology puts the borrower's needs first, which is always to get their homeowner's insurance reinstated prior to the expiration of their policy. The lender also benefits as the Borrower-Centric methodology transfers all collateral risk and reduces non-interest expense in loan servicing."
For smaller lenders considering outsourcing their insurance tracking, the Miniter Borrower-Centric Approach to outsource insurance tracking has completely changed the traditional value proposition associated with small lender outsource insurance tracking.
Miniter Group is a leading provider of collateral risk transfer solutions to the lending industry, providing services to over 550 lenders in 45 states. Miniter's in-house software development team created a unique Borrower-Centric Insurance Tracking Solution in 2006. Miniter's products include Lender Placed Hazard, Lender Placed Flood, REO Hazard, REO Liability, Blanket Mortgage Hazard, Mortgage Impairment Insurance, Outsource Tracking, Vendor Single Interest Insurance, Collateral Protection Insurance and GAP Insurance.
We invite you to call us at 1-800-MINITER or visit us on the web at http://www.miniter.com.