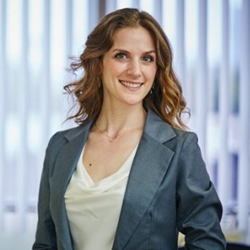 I'm passionate about helping people navigate the insurance journey...it's a complex landscape to traverse. I love to advocate and help people make the right decisions.
LOS ANGELES (PRWEB) February 09, 2021
Corporate Benefit Marketing (CBM), an industry leader for over 30 years in the full-service employee benefits consulting sector, announces Teresea Martino as new Director of Client Services. She was previously the Vice President of Employee Benefits for Martin J. Wolff & Company bringing with her 15 years of industry experience and account management skills of over 250 clients. "We are thrilled to have Teresea on board with CBM. Her depth of knowledge and management capabilities will complement our growing team of seasoned executives," says CEO Paul Vincent. To learn more about CBM and their work please visit https://corporatebenefitmarketing.com or call (818) 380-2500.
Being an expert in the employee benefit arena, Teresea values learning the specific needs of each of her clients. "I'm passionate about helping people navigate through the insurance journey, we all need insurance and health care but it's a complex and difficult landscape to traverse, and there are a variety of options to consider. I love to advocate for and help people make the right decisions which will benefit them the most," says Martino. Her addition to the team will continue to lead client services as CBM maintains its legacy as a powerful force in the industry. CBM is committed to delivering service excellence, acting with unsurpassed integrity while providing sound solutions that balance cost containment and common sense.
https://www.linkedin.com/showcase/corporate-benefit-marketing/about/
About CBM & Patriot Growth Insurance
Founded in 1991, CBM located in Agoura Hills, Valencia, and Newport Beach, California, combines local presence with national reach. Licensed in all 50 states, their consultants have over a century of professional employee benefits experience. CBM specializes in the design, implementation and administration of customized group benefits programs which includes health and welfare plans, total rewards employee benefit programs, executive benefits, and 401k qualified retirement plans. CBM is a proud partner with Patriot Growth Insurance Services, LLC., whose rapid growth now represents one of the largest insurance brokerages located throughout the United States, managing over $2 billion in insurance premiums.