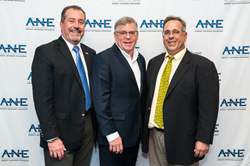 ANE's growth in the last 10 years shows the tremendous value we bring to our members through our consultative approach and strong carrier relationships that drive revenue and organic growth - John Tiene, CEO of ANE.
PRINCETON, N.J. (PRWEB) April 18, 2019
ANE, Agency Network Exchange, the fastest growing network of insurance agencies in the Mid-Atlantic U.S., celebrated 10 years in operation at its annual conference on April 11. The event brought together more than 250 insurance professionals representing member agencies, carriers, vendors and industry experts.
ANE has grown rapidly from just three independent agencies in 2009 to more than 70 agencies across New Jersey, Pennsylvania and Maryland, including three of the top 100 agencies in the U.S. according to Insurance Journal. Last year, ANE added another 17 members with plans to expand into Connecticut and New York. ANE member agencies wrote over $730 million in property/casualty premiums in 2018.
"ANE's growth in the last 10 years shows the tremendous value we bring to our members through our consultative approach and strong carrier relationships that drive revenue and organic growth," said John Tiene, CEO of ANE. "I am extremely proud of all the work the ANE team has done and I look forward to working with our members to build on our success."
In the last three years, ANE members wrote more than $92 million in new business premium to carrier partners and paid more than $10 million in profit sharing to members.
10 Years of ANE
ANE was formed in 2009 by the Pavese-McCormick Agency and Valvano Insurance Agency. United Assurance joined as the third founding member in 2010. In 2012, ANE added three equity partners: Bogle Agency Insurance, Merwin & Poalazzi Insurance and JGS Insurance. Liberty Insurance Associates joined as an equity partner in 2014.
ANE founding member Michael J. Varvar, President, Valvano Insurance Agency, said "In 2008 we came up with the concept of ANE based on the model of like-minded agents that are growing organically. When United joined us as a founding partner in 2010, they validated our model."
"Agencies have the same problems whether it's a small mom and pop agency with revenues of less than a million or a large agency with revenues over $10 million. We all struggle with the same issues, just on a different scale," said ANE founding member Michael McCormick, CFO and COO, Pavese-McCormick Agency. "By banding together, we create synergy so that an individual agency can still create growth, meet and exceed carrier expectations, but also remain independent."
"We work with our agencies to be more efficient and increase revenue to reinvest into their agencies and propel growth at a much higher rate. It's what makes ANE different," said founding member Raymond J. Pavese, CEO and Director of Sales, Pavese-McCormick Agency, Inc. "It's amazing to go from a concept to a functioning, thriving organization that helps independent agents remain a viable force in insurance distribution."
Annual Meeting
ANE's annual meeting brings member agents together to exchange ideas and best practices and to explore innovative, new ways of doing business. The event featured breakout sessions for agency owners, producers, account managers and CSRs.
This year's keynote speaker was Chris Burand, president of Burand & Associates, a management consulting firm specializing in the property/casualty insurance industry. Burand's presentation "The Future of Agency Distribution" explored the history and future of insurance agency distribution, and best practices for agency networks.
"If you build your best practices for today, it's not going to work. The industry's changing way too fast for that. We have to address and build best practices to help you succeed tomorrow," Burand told agents. "The world's becoming a safer place. [Carriers] will do anything to partner with agents that provide organic growth."
About ANE
ANE, Agency Network Exchange LLC, is a regional network of independent agencies that gives members increased strength in the marketplace, based in Monmouth Junction, N.J. ANE's innovative and flexible model responds to the individual needs of independent agencies of all sizes. ANE helps agents increase agency revenue by pooling premiums to increase contingent revenue, increase new business sales, and provides support to help agents be better business owners. Visit http://www.ane-agents.com for more information.