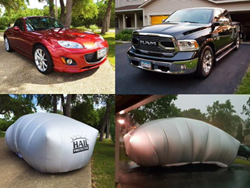 While policy holders have insurance, they don't want their automobiles damaged in the first place
Dallas, TX (PRWEB) May 09, 2017
The patented Hail Protector System is the world's only portable hail protection system stopping any size hail from damaging automobiles. System development began eight years ago, in North America, and launched to market four years ago. The system now protects vehicles in 8 countries on 4 continents, with thousands of autos protected in the USA and Canada alone.
This partner program enables AVIVA Canada policy holders to benefit from an exclusive incentive on the revolutionary Hail Protector System. The system provides a portable sense of relief from the fear and effects of hail damage to their automobile through its patented design. The system is remote controlled and inflates to provide a cushion of air around the entire vehicle. AVIVA Canada policy holders will choose from six sizes to cover any size production vehicle and many commercial vehicles.
"Automobile owners have a tremendous sense of pride in their automobile. They specifically selected their automobile and, while they have AVIVA Canada insurance coverage for their vehicle, they don't want their vehicle damaged in the first place," says Michael Siciliano, President of Hail Storm Products. "Customers tell us the inconvenience of a damaged automobile, the lost sense of pride and the lost value in a repaired vehicle are the most common reasons they purchased a Hail Protector System. The fact that the system is available for less than the cost of the average insurance deductible is just an added benefit to AVIVA Canada policy holders," adds Siciliano.
The Hail Protector System is a worldwide sensation with appearances on The History Channel, Discovery Canada, multiple appearances on The Weather Channel, over 60 appearances on local news segments and hundreds of features in print and online media. This is driven by the seriousness of the over $2B annual global problem of automobile hail damage and the effectiveness of the Hail Protector solution. The portable system installs in five minutes on most vehicles and has proven to stop any size hail, as demonstrated by Hail Storm Products and its customers. Hail Storm Products is looking forward to establishing similar country-specific exclusive programs with additional property and casualty (P&C) automobile insurance providers around the world.
Steven Krug, Executive Vice-President of Hail Storm Products explains, "We could not be more excited about our partnership with AVIVA Canada Insurance Company. AVIVA is a worldwide leader in Property and Casualty (P&C) insurance and AVIVA Canada's commitment to going beyond in the area of customer satisfaction is clearly demonstrated by their '2016 Burns & Wilcox Award for Philanthropy & Community Service'. Krug adds, "AVIVA Canada and Hail Storm Products are both committed to providing innovative solutions to historical consumer needs and doing so with the utmost value in mind."
AVIVA Canada policy holders can take advantage of this exclusive incentive by visiting hailprotector.com and entering coupon code AVIVA20 at checkout.
About Hail Storm Products LLC:
Hail Storm Products is a Texas corporation formed in 2011 for the purpose of developing, manufacturing, and distributing the insurtech Hail Protector Automobile Hail Protection System. Hail damage to automobiles exceeds $2 billion worldwide each year, resulting in tremendous loss of vehicle value and owner inconvenience while seeking repair or replacement.
The company holds an Intellectual Property portfolio consisting of patents in products, proprietary mobile apps on multiple platforms and hail related URLs. Hail Storm Products is always interested in discussions with individuals, businesses, and insurance companies interested in participating in revolutionizing this market segment.
For more information, visit them at hailprotector.com, Twitter, Facebook and LinkedIn pages or via email to info(at)hailstormproducts(dot)com.
About AVIVA Canada:
Aviva Canada Inc. is one of the leading property and casualty insurance groups in the country providing home, automobile, leisure/lifestyle and business insurance to more than three million customers. A wholly-owned subsidiary of UK-based Aviva plc, the company has more than 4,000 employees focused on creating a bright and sustainable future for their customers and communities.
Aviva Canada invests in positive change through the Aviva Community Fund, Canada's longest running online community funding competition. Since its inception in 2009, the Aviva Community Fund has awarded $7.5 million to over 250 charities and community groups nationwide. Aviva Canada, bringing over 300 years of good thinking and insurance solutions to Canadians from coast-to-coast.
For more information visit avivacanada.com, the company's blog or Twitter, Facebook and LinkedIn pages.