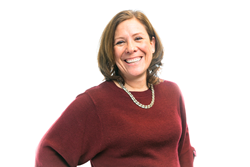 My goal is always to be viewed as a partner - an extension of my client's team, not just another vendor.
CHICAGO (PRWEB) August 29, 2019
Inte Q, a leader in customer relationship management and loyalty, recently named Karyn Speckels Senior Vice President of Strategic Solutions.
In her previous position as Senior Vice President of Relationship Management, Speckels was instrumental in positioning Inte Q as a trusted partner and one of the premier providers of advanced analytics, CRM solutions, and loyalty program strategy and design. She specialized in finding the best solution to business problems and assisted clients in using Inte Q's products and services to grow their business. She has an uncanny ability to listen to the client, understand their business, and help them find solutions to the challenges they are facing in this fast-paced and everchanging world.
"My goal is always to be viewed as a partner – an extension of my client's team, not just another vendor," Karyn Speckels, SVP Strategic Solutions, Inte Q.
As the SVP of Strategic Solutions, Speckels will contribute to the development and refinement of Inte Q's vision and strategy, while focusing on building new client partnerships. She will continue to position Inte Q to solve the complex business challenges of current and potential clients.
"I look forward to watching Karyn continue to foster positive client relationships the way she has for the past 14 years with Inte Q. I look to her to provide honest feedback from the marketplace, enabling Inte Q to advance our product and service offering - while creating long-term value for Inte Q from our customers, markets, and relationships," Chris Duncan, President, Inte Q.
Speckels brings more than 25 years of experience in both business development and client-facing roles. She holds a B.S. degree in Marketing from Indiana University Kelley School of Business and currently serves on the Board of Trustees of a local non-profit, Sharing Connections.
About Inte Q
Inte Q builds marketing programs that Create Customer Love™ for brands - enhancing customer retention, strengthening brand loyalty, and driving incremental customer engagement. With more than 35 years in the loyalty marketing business, Inte Q is a marketing leader focused on loyalty and CRM programs, premium loyalty programs, marketing strategy, and analytics services. For additional information, please visit inteqinsights.com.